I have been fortunate enough to visit Barcelona on several occasions, it's such a magical place I just can't get enough of it! Not only is the weather great, food delicious and people friendly but it also has so many things to see and do there. It really is very difficult to get bored in Barcelona.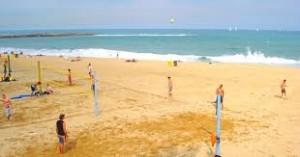 The first thing that you have to do is sort out your travel and accommodation, you can find some great deals out there for flight if you look hard enough. For accommodation the good news is that HCC Open in Barcelona you will be able to find some amazing hotels at great rates, it's such a great site and it offers all of us some affordable accommodation in one of the world's best cities. So once you've got your travel and bed sorted it's time to plan what you are going to see and do!
Here are my two favorite things to do in Barcelona, I know they may not be the most 'touristy' things in the world but trust me when I say that they are definitely worth doing!
Hit the beach
That's right! It might be a city but there are some fantastic beaches just waiting for you to relax on. So grab a beer, pack a picnic and head to the beck for a day of lazing around and doing very very little! Barceloneta is probably the most popular beach in town, it can get crowded so head there early. You can sip on Mojitos, dance to the loud reggae music that is being pumped out and admire the beautiful people of Barcelona strut their stuff.
Head for the roof
You cannot go to Barcelona and not check out one of the rooftops, of which there are many, that will give you amazing views of the city. You can usually find them on top of some of the most luxurious hotels. Now, they do like to try and keep the bars only for their guests but if you're nice enough and dressed well then you won't have any issue at all. If you're with a big group of guys or are a little loud then I am sorry but you have no chance at all! These rooftops are there to relax, watch the sunset and marvel at Barcelona in all its glory.