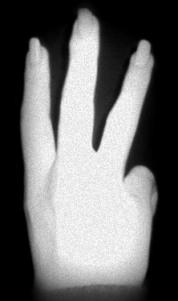 Yes, yesterday was the death of Steve Jobs, but yesterday was also the day that Reverend Fred L. Shuttlesworth, a Civil Rights Movement Leader, and Frank Buckles, the last surviving World War 1 Veteran, passed away.
When I heard about the passing of these 3 outstanding individuals, I couldn't help but notice the strange pattern that kept emerging when it came to events in life that affect us all.  I have witnessed, numerous times, things happening in threes, good and bad, but I have only experienced the bad.
I used to think I just had bad luck, but when things started to happen in threes, it got kind of freaky.  I would stub my toe, then hit my head and poke my eye within 5 minutes.  I lost my taxes, my ring and my cell phone in the same day but at different times.  At its worst, my car blew up, I lost my job and I lost my apartment all within one month.  I was convinced I was cursed, but then I learned that it just wasn't me.
While working as a Certified Nursing Assistant, I was employed at a Quaker Nursing Home by Longwood Gardens in Pennsylvania.  This is where I finally learned things happen in threes.  When I first started, I was told that people passed away in threes.  I didn't believe it when I heard it, but I soon saw it with my own eyes.  Within 3 months of being employed, it happened.  The first person went in the wee hours of the morning and was expected to pass.  The 2nd was unexpected and was in the afternoon.  The third was late in the evening and it was a surprise because we thought they were getting better.  It didn't always happen that way, but it always happened in threes.  I thought this would be the craziest experience with threes that I would have, but I was wrong.
I was sitting at my desk while working as a Legal Assistant for a Law Firm in Wilmington.  I had heard that Ed McMahon had passed away that day and I said to my co-worker "Two more celebrities are going to die."  She looked at me like I had two heads that were oozing with slime.  She just turned around and walked away.  2 days later, Farrah Fawcett and Michael Jackson passed away.  The coworker, who looked at me like I was crazy, came back and was astonished that I knew this information.  She was stunned and was starting at me with jaw to the floor.  I then explained the power of threes and how things happen in threes no matter what.
Things happen in threes, and maybe if I understand the Power and Cosmic Forces of the Number Three, then possibly I could experience the good side instead of the negative side most of the time.
39.130276
-75.369206
Advertisement
Eco World Content From Across The Internet.

Featured on EcoPressed
Stuff We Need: Solar Bridges