This apple tart recipe was the perfect recipe for me today.
Firstly,
It allowed me to use up my stock of apples.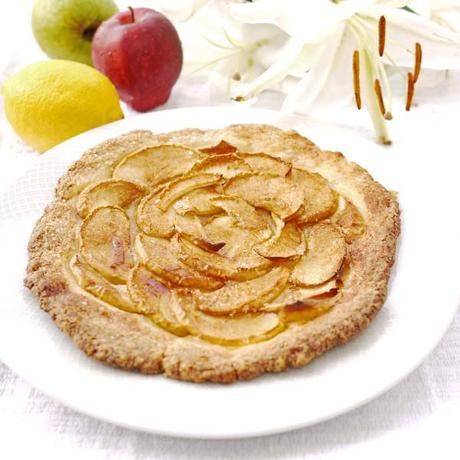 Secondly,
it allowed me to use my new mandolin slicer toy.
The apples were cored and quartered and then sliced to 1/4 inch thick. I loved how precise and uniform each of my apple slices were, thanks to that toy.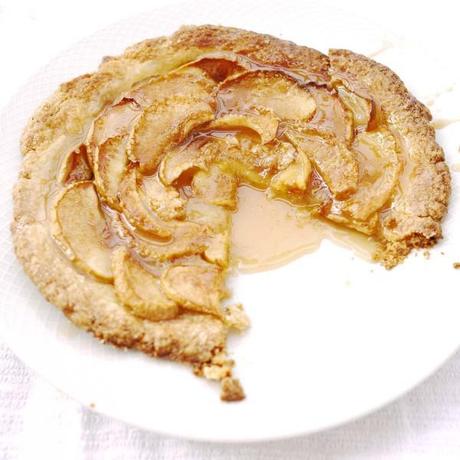 and thirdly,
there is no rolling pin required for this.
A soft dough cream cheese dough is patted into a circle, before the apples go on top.
Perfect for a morning weekday rush, 
not to mention, very convenient.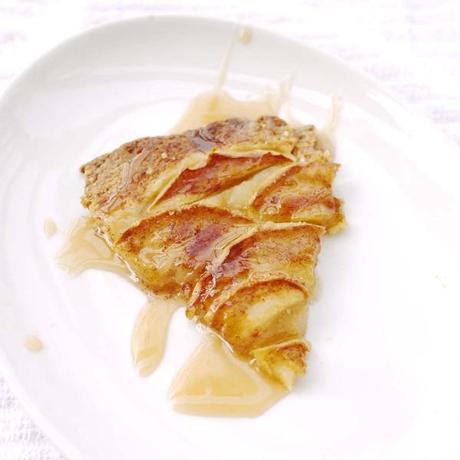 I drizzled maple syrup over these tarts. They didnt really need it as they were sweet enough as they were.
I can be such an over-achiever.
Thin Pear Tart
Note: I changed the pear to apple obviously.

Taken from Martha Stewart's Pies and Tarts
Ingredients
2 ounces cream cheese
4 tablespoons unsalted butter, room temperature
1/2 cup all-purpose flour, plus more for dusting
1/2 cup, plus 1 1/2 tablespoons sugar
1/8 teaspoon salt
2 tablespoons freshly squeezed lemon juice
2 tablespoons pear brandy
1 Bosc or Red Bartlett pear
1/8 teaspoon ground cinnamon
Directions
Heat oven to 400 degrees with rack in center. Line a baking sheet with parchment. Combine cream cheese and butter in a food processor. Add flour, 1/4 cup sugar, and salt, and process until combined. Dough will be sticky. Turn dough out onto prepared baking sheet. With lightly floured fingers, pat dough out into a flat 8-inch circle.
In medium bowl, combine 1/4 cup sugar with lemon juice and brandy. Halve pear lengthwise; core; leave skin on. Cut lengthwise into 1/4-inch-thick slices; transfer to lemon-juice mixture; coat well. Place slices in strainer to drain liquid. Arrange lengthwise around border of dough, overlapping slightly. Arrange remaining slices in center. Sprinkle tart with remaining 1 1/2 tablespoons sugar. Dust pears with cinnamon. Bake until golden, 25 to 30 minutes. Serve warm or at room temperature.