Star Wars Showerheads Feature Darth Vader & R2D2
Tired of being called a scruffy looking nerf herder? Maybe it's time for a new showerhead. Every release of a Star Wars film initiates a plethora of related products and merchandising, and this year is no different. Oxygenics, the maker of high efficiency showerheads for over 30 years, has introduced 2 new showerhead models inspired by Darth Vader and R2D2. They are being sold through Bed Bath & Beyond. Unfortunately they are currently out of stock online due to the high demand, so keep an eye out for updates.
Don't miss a spot with the 72" hose included in the Star Wars™ Darth Vader Shower Head: https://t.co/HyLmCs4jbg pic.twitter.com/QWgk1GcxKr

— Oxygenics (@oxygenics) October 19, 2015
R2-D2 Shower Head has the power to get you bleepity bloopity squeaky clean, fast. http://t.co/gOfeA9ibtL pic.twitter.com/lPIqkRgDVO

— Oxygenics (@oxygenics) October 16, 2015
These new models come with three different spray settings and are a lot of fun for kids. In the low setting, Darth Vader looks like he has tears pouring out of his eyes. Perhaps he finds your lack of scrubbing disturbing. It is handheld and comes with a 6 ft hose, perfect for cleaning your Dark Side. In comparison, the R2D2 model is a fixed mount design and has a spray setting that is reminiscent of R2D2's ability to spray enemies with oil. Thanks to Oxygenics' design, these showerheads will wash you down, and you will become cleaner than you could possibly imagine.
Read the Full Article & View Pictures on BoredPanda.com
High efficiency showers have grown in popularity and demand due to rising concerns about conservation and the environment. Trade Winds Imports offers a large selection of shower products for an efficient and energy saving bathroom. Check out their sleek modern shower panels that can control water pressure and save water.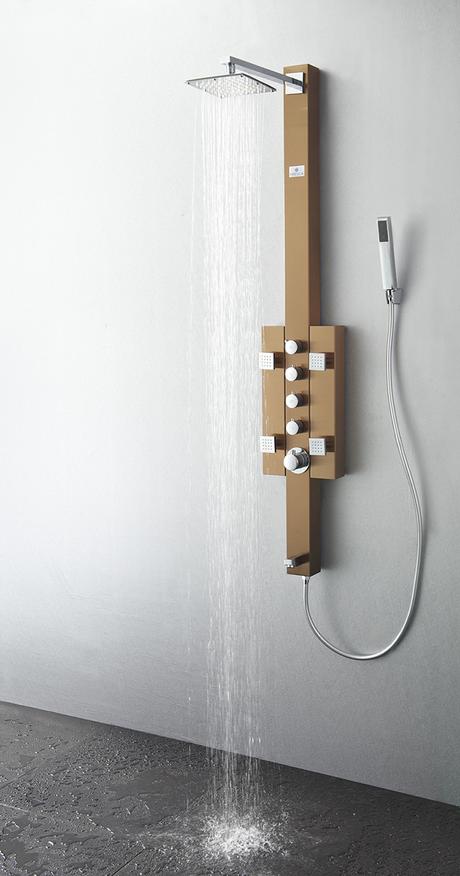 Lecco Shower Panel