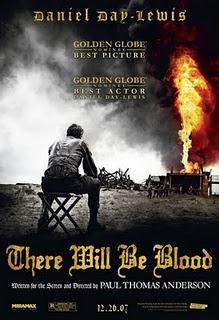 Everything that needs to be said about There Will Be Blood has already been said, so no point going into a detailed review. Finally watching it a couple of days back I applauded the power of cinema when I realized that the first fifteen minutes of the film are dialogue free and yet so powerful. Daniel Day Lewis gives a performance that deserves a standing ovation and it only strengthens that fact that he is an amazingly talented and great actor.
Paul Thomas Anderson's direction takes the audience right in the middle of California's oil exploration craze at the beginning of the 20th Century. He further manages to beautifully merge the different eras that follow during the course of the film.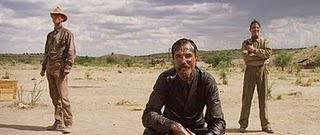 The film on the outset is about the life of an oil driller Daniel Plainview (Daniel Day Lewis) but in reality has strong undertones of religion, ego, money, greed, and pure obsession. Based over a course of about 30 years, the film is a soul-stirring look at human nature.
Unlike the first 15 minutes that are dialogue free, the last 15 are exactly in contrast and are dialog heavy. That scene, that one scene, has such strength that it is bound to leave the audience in awe of Daniel Day Lewis, Paul Dano playing Eli Sunday, and the director Paul Thomas Anderson. It's a scene that has to be seen to appreciate the brilliance of everyone involved.
A definite 5/5 Star Rating.