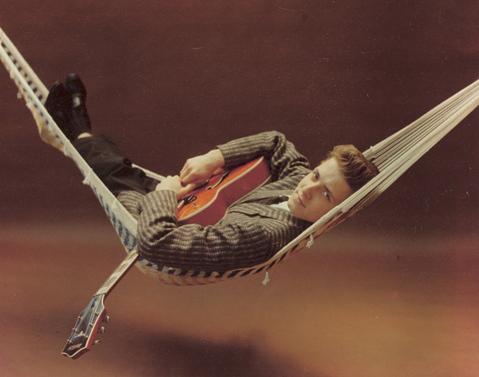 We're smack dab in the middle of those lazy-hazy-crazy days of summer, and with it an incurable affliction – the Summertime Blues.
The title to Eddie Cochran's 1958 masterpiece is intriguing, almost incongruous. Rock 'n' roll in the 1950's was teenage music and, for teenagers, summertime is that magic time of year when school is out, the weather is nice, the livin' is easy, and your mama's good looking. What's there to be blue about? Ah, of course: those pesky summer jobs. Can't get the night off to go on a date. Even appeals to the United Nations or congressional representatives prove fruitless – "I'd like to help you son but you're too young to vote."
Eddie Cochran was a musical genius and guitar prodigy whose infectious anthems of teenage frustration made him a star before his tragic death made him immortal. Dead at the age of 21, he left a monumental legacy that influenced countless musicians from The Beatles to Brian Setzer, Sid Vicious to Jack White.
His first musical success came as one half of a duo with Hank Cochran (no relation), billed as The Cochran Brothers, as well as extensive session work as a guitar player, mostly among the thriving country music recording scene in 1950's Southern California. (Hank Cochran would go on to write countless country standards such as "A Little Bitty Tear" for Burl Ives, "It's Not Love (But It's Not Bad)" for Merle Haggard, and "She's Got You" and "I Fall To Pieces" – co-written with the legendary Harlan Howard – for Patsy Cline.)
Despite an astonishing amount of classic recordings from such a brief career, "Summertime Blues" is unquestionably Eddie Cochran's signature song. Its success is found not just in the irresistible groove and Cochran's patented half-step bass riff, but also in the playful humor of the lyric. The earnestness for triviality in Cochran's lyric is worthy of Jerry Leiber at his finest, and could have made one hell of a Coasters record.
I'm a-gonna raise a fuss, I'm a-gonna raise a holler

About a-workin' all summer just to try to earn a dollar

Every time I call my baby and try to get a date

My boss says, "No dice son, you gotta work late"

Sometimes I wonder what I'm a-gonna do

But there ain't no cure for the summertime blues

Well my mom and pop told me son you gotta make some money

If you want to use the car to go a-ridin' next Sunday

Well I didn't go to work told the boss I was sick

"Now you can't use the car 'cause you didn't work a lick"

Sometimes I wonder what I'm a-gonna do

But there ain't no cure for the summertime blues

I'm gonna take two weeks, gonna have a fun vacation

I'm gonna take my problem to the United Nations

Well I called my congressman and he said quote:

"I'd like to help you son but you're too young to vote"

Sometimes I wonder what I'm a-gonna do

But there ain't no cure for the summertime blues
Cochran's 1958 original is the gold standard, but "Summertime Blues" has been covered countless times. The song was a staple in The Who's live set for years, most notably captured on their 1970 Live at Leeds album, as well as in the Woodstock film from the previous year. The Who abandon any teenage playfulness in exchange for sheer unapologetic force.
Proto-metal band Blue Cheer released their version in 1968, which became a hit single and replaces Cochran's pseudo-rockabilly riffs with fluid psychedelic runs.
Country neo-traditionalist Alan Jackson released his unlikely version in 1994. Eddie Cochran was born in Minnesota but raised by Okie parents in Bell Gardens, a blue-collar suburb of Los Angeles, which in the 1950's was populated with Southern transplants, and there is an unmistakable country music influence in his singing and playing. Jackson's laid back approach, accompanied by the music video with off-roading pickup trucks and mud-caked overalls, has less to do with the adolescent aggression of the original than even The Who's blistering post-British invasion interpretation, yet it resonated enough to become a #1 country record.
Stray Cats founder and Cochran disciple Brian Setzer performed the song as Eddie Cochran in the 1987 Ritchie Valens biopic La Bamba. Valens was killed in the infamous plane crash on February 3, 1959 that also took the life of Buddy Holly and The Big Bopper. It was rock 'n' roll's first great tragedy. It would be far from its last.
Disturbed by the premature demise of his piers, Cochran began to develop premonitions of his own early death. His premonitions were accurate; Eddie Cochran died in a one-car crash in Chippenham, England the following year, April 16, 1960. Riding in the car that day was rock 'n' roll's original leather-clad bad boy Gene Vincent, who survived the accident but was permanently maimed and emotionally scarred for the remainder of his tortured life.
At a previous stop during that ill-fated UK tour, a young aspiring musician named Mark Feld prophetically carried Cochran's guitar to the car after a gig. Mark Feld would become known professionally as Mark Bolan, a founding member of British glam pioneers T. Rex, and would also die in a car crash, at the age of 29. But not before covering one of his idol's best known songs – "Summertime Blues."
Unlike the shifting sands of the season for which it is named, "Summertime Blues" is endless. It has endured for over half a century in multiple genres and formats, speaking to multiple generations worldwide. That is a testament to the quality of the composition (which Cochran co-wrote with his friend and manager, songwriter Jerry Capehart).
Rarely do 19-year-old kids compose such immediate standards. Then again, rarely are teenage songwriters already in the autumn of their years.