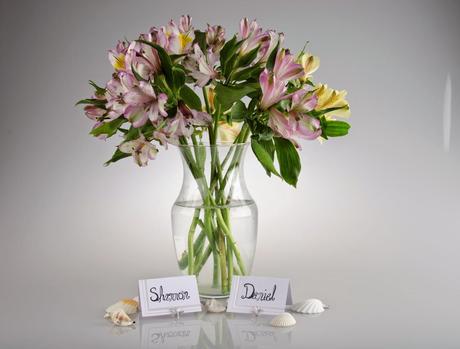 Materials:
·   Clip On Earrings
·   Blank 3 X 5 cards or construction paper
·   Doilies, lace, whatever other add-ons you prefer
·   Markers/Pens
·   Scissors (optional)
I was lucky enough to be a part of one of my very good friend's weddings last summer, and I learned a lot about what it takes financially to plan a wedding. My friend, like many brides, had a budget she was determined to stick to.
Like all of us here, I am a huge supporter of DIY projects. Getting your creative juices flowing can not only allow you to save some serious cash if you plan things out right, but you end up with stunning one-of-a-kind creations that everyone will adore. Ordering place cards and place card holders can cost a pretty penny, especially if you have many guests attending your wedding. Rather than investing, make your own place cards and save! In addition, hand-made place cards make for charming take-home gifts that add a personal touch to your wedding.
Prior to getting started I went to Michael's craft store and purchased some thick scrapbook paper, doilies, and glue stick. Since my friend's wedding was beach themed, I thought it was appropriate to suggest using beach themed clip-on earrings to continue with the trend. Using clip-on earrings as the place card holder adds stability to the place cards, in addition to adding a touch of distinctive elegance. Plus, it's so easy! You literally snap the clip-ons onto the desired area of the place card and voila! You're done.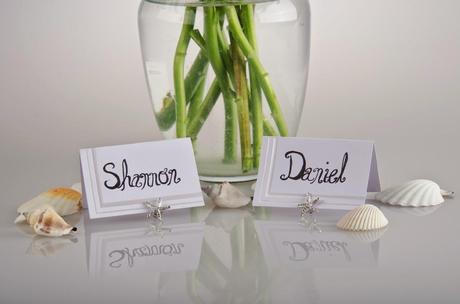 I got these cheap clip on earrings that look like starfish from Emitations.com
Once you have your 3X5 cards ready, you can either hand-write the names of your guests onto the card, or you can type them on a computer and glue the name on. I prefer the look of the handwritten cards because it offers an intimate and personalized look. You can add doilies or whatever other trimmings you desire to get the look you want and top it all off with clip-on earrings. As far as placement, arranging the place cards directly on the table with some shells and tea lights accompanying the surrounding area adds a romantic finish, and not to mention complimentary mood lighting during dinner. There are so many colorful and dazzling clip-on earrings styles available that you can really get creative and design stunning place cards your guests will be impressed with. Plus, you'll save money on your wedding. I highly recommend trying this one out for your next big event.