Guys!  I've been super busy at work lately so I'm really sorry for my absence.  All of these summer tourists have been requiring me to log a bunch of extra hours between my two gigs...but, hey - at least I can pay rent next month! LOL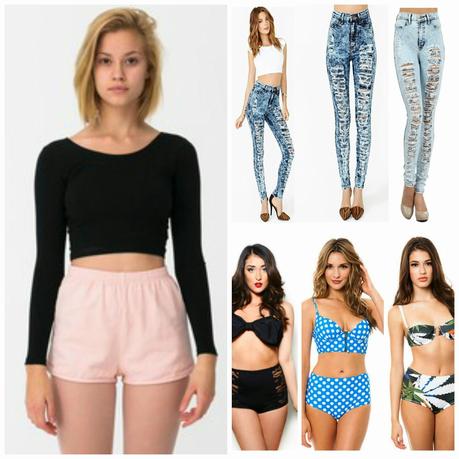 For this post I want to discuss fashion, and a very particular trend at that.  A trend that is hard to miss this season.....High Waisted Clothing. They were the big thing in the 40's and now they are back! Whether they are pants, skirts, shorts, or bathing suits - high waisted clothing has become an essential for everyone's closet. High waisted clothing gives off a nice silhouette and is very flattering on most body types.
It is not hard to find high waisted clothing at most retail stores. Check out American Apparel for a large variety of high waisted pants, skirts and shorts in an even greater amount of colors. Match up any high waisted pants, skirts or shorts with a simple or extravagant shirt. The high waisted look is a nice and classy look and it is hard to make it look bad.
What are your thoughts on high waisted clothing? I personally love it!