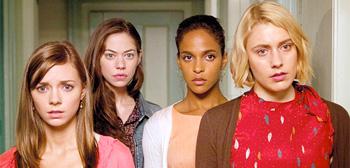 Sony Pictures Classics released the theatrical trailer for 'Damsels in Distress'. The film is about three beautiful girls who set out to change the male dominated environment at a grungy American University – the dynamic leader Violet Wister (Greta Gerwig), principled Rose (Megalyn Echikunwoke) and Sexy Heather (Carrie MacLemore). They welcome transfer student Lily (Analeigh Tipton) into their group which seeks to help severely depressed students with a program of good hygiene and musical dance numbers.
The girls get romantically entangled with a series of men including Smooth Charlie (Adam Brody), dreamboat Xavier (Hugo Becker), the mad frat pack of Frank (Ryan Metcalf) and Thor (Billy Magnussen) who threaten the girl's friendship and sanity.
The film is written and directed by Whit Stillman who also directed films like 'Metropolitan' and 'The Last Days of Disco'.
'Damsels in Distress' is produced by Westerly Film Distribution and is ready to hit theatres on April 6th, 2012.
Check out the trailer below