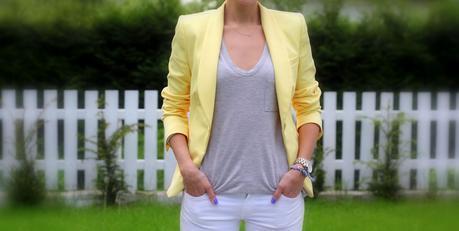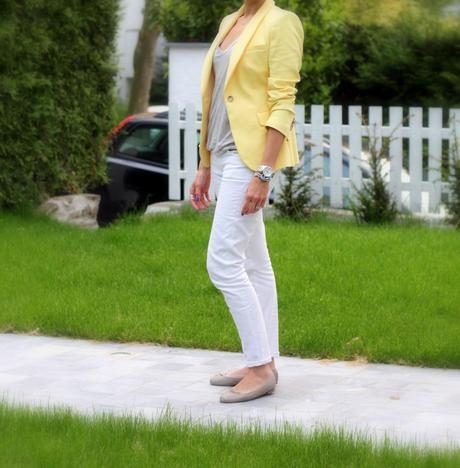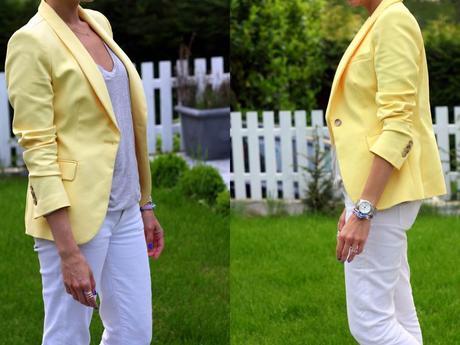 Yellow blazer -
Zara
White jeans - Citizens of Humanity
Grey tee (already seen here) - T by Alexander Wang
Ballet flats - Repetto (2011)
Nails - Majorelle blue YSL
There is nothing better than a blazer to complete an outfit, specially in the morning when you're late for work (right, working girls ?). This morning I was again very late and quickly put on a pair of white jeans and a loose t-shirt. After that I needed something to make my outfit pop but I didn't have time to experiement. I tried a colorful cardigan but it didn't work. Then I remembered my yellow blazer (bought last week but already forgotten, oops) which ended up being the perfect piece to complete my grey/white outfit. In less than 5 minutes I was done and once again I was saved by "the blazer". This time it was the yellow one, I wonder which one it will be tomorrow... How about you, what item saves you in the morning when you're in a rush ? Would love to know !
Today I realised that yellow suits me, at least that's what I understood from the compliments that I received during the day. I always thought that blue was my color but maybe I was wrong or maybe I have more than one color, mmm... Anyway, I will definitely experiment more outfits with yellow this summer, just to check.
If you think that yellow is also your color you might like what I have selected here. I am personally in love with Rag & Bone blazer, which is a perfect mustard yellow blazer for autumn (yes, it's coming !).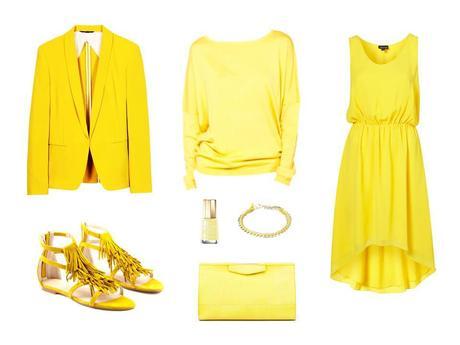 From top left: Rag & Bone blazer (
mytheresa
), Les Petites sweater (
famousbox
), chiffon dress (
topshop
),
Essentiel
sandals (
famousbox
), Mavala Lemon Cream polish, chain & thread bracelet (
wanderlust
), clutch (
zara
)
How about you, what is YOUR color this season ? xx Marta