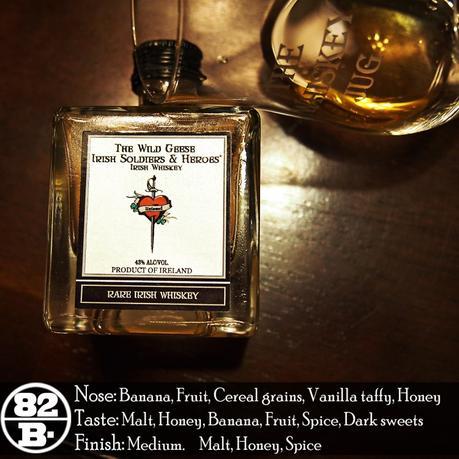 The Wild Geese Rare Irish Whiskey is a blend of Irish single malt and Irish grain whiskeys that were individually aged in ex-bourbon casks and then blended together to create this "rare" whiskey. Cooley was the distiller, the process is standard and there's no mention of it being non-chill filtered (safe to assume it was), but it is a mass market focused Irish Whiskey bottled at 43% (86 proof) so maybe that's what's so rare about it.
The name of the whiskey is in reference to Irish soldiers who left Ireland to go and fight for the English from the 16th to the 18th centuries and involves something called the Treaty Of Limerick which, as it turns out, does not involve a man from Nantucket. The history behind this group of folks is quite interesting and it's worth checking out the Wikipedia article about them. But open it in another tab and do that later because we're here to talk about The Wild Geese Rare Irish Whiskey!
The Wild Geese Rare Irish Whiskey Info
Region: County Louth, Ireland
Distiller: Cooley
Bottler: Avalon Group
Mashbill: Blend of Irish Single Malt (100% Malted Barley) + Grain Whiskey
Cask: ex-Bourbon
Age: NAS
ABV: 43%
Price: $45 (750ml)
The Wild Geese Rare Irish Whiskey Review
EYE
Honey
NOSE
Banana heavy fruit, cereal grains, vanilla taffy, malt and light notes of honey candy, cinnamon and dried apples combine in a nice light manner that reminds me of… many other Irish whiskeys that are currently sitting on my shelf.
PALATE
Malt, honey, banana heavy fruit and a light bit of spice, dark sweets and candied citrus. The palate is better than the nose showing a bit more richness, but it's still a rather ho-hum blended Irish flavor.
FINISH
Medium dissolve of malt, honey and spice.
BALANCE, BODY & FEEL
A bit off balance with a medium body that comes across light and effortless.
OVERALL
The Wild Geese Rare Irish Whiskey is a slightly above average blended Irish Whiskey. The flavor is a bit more robust than a lot of blends and has some interesting and tasty notes. I wouldn't go out of your way to try it unless you're a hardcore Irish whiskey fan, but if you are it's a mildly interesting blend for sure. Wish I had more to say about it, but it's just not very exciting or inspiring.
SCORE: 82/100