The Wedding speech is one of my highlights of the wedding day. Its another key part in the day when anything can happen, and often does.
From sharp wit and banter delivered with razor sharp accuracy, to tender tributes being paid, often evoking strong emotional reaction.
From an invited outsiders point of view, its a time where I get to see the specific workings of the 'family'. How they react with one another and how close the family and given individuals really are.
Being present as a witness with a camera is a privilege, but being able to get it captured for prosperity is indeed an art. Appreciating this fully often occurs during the editing process. Its a time when I get to see all the various elements working together. Composition, timing, expressions, and most importantly connection.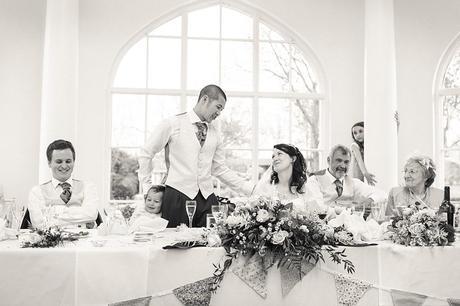 This image from a recent wedding speech at Pennsylvania Castle says an awful lot to me, having all the things I love present within a wedding photograph. Taken during the Grooms speech, it shows Steve and his wife Cat, their young son and immediate family.
Its a moment that I love and I hope they will too.
15/05/2014
By Linus Moran
Dorset Wedding PhotographyLeave a commentdocumentary wedding photographerDocumentary Wedding Photographydorset wedding photographerreportage wedding photographerWedding Photographer Dorchesterwedding photography at Pennsylvania castle
Facebook
share
Twitter
tweet
Google+
share

About the author
Hi I'm Linus, a Dorset Wedding Photographer offering Documentary Wedding Photography and portraiture throughout Southern England and the UK. I aim to capture your decisive moments unobtrusively as an observer, leaving you at ease to relax, have fun & enjoy your guests!
PrevKingston Maurward Wedding Photofilm | Kelly & Gavin