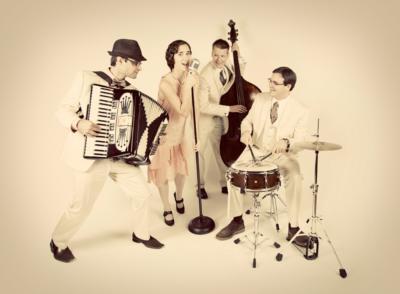 Jazz entertainers, like Reception Jazz, are a classic touch to any wedding!
If you're planning your wedding, it's time to put Frank Sinatra, Dizzy Gillespie and Billie Holiday on your list. No, unfortunately not your guest list – your playlist! Jazz music can bring an awesome vibe to your wedding reception, especially if the theme is retro or Old Hollywood.
To gain an idea of what will get guests grooving, we asked some of our jazz singer, jazz trio, jazz quartet and jazz band members for the most popular music they are requested to play.
Most Popular "Classic" Songs
Fly Me To The Moon – Frank Sinatra
At Last – Etta James
The Way You Look Tonight – Frank Sinatra
Girl From Ipanema - Antônio Carlos Jobim
What A Wonderful World – Louis Armstrong
Most Popular "New" Songs*
Everything – Michael Bublé
Don't Know Why – Norah Jones 
Come Away With Me – Norah Jones
Moondance – Michael Bublé
Songbird – Kenny G
*Many of our members note that true jazz tunes come from the Great American Songbook, so there aren't any real "new" jazz songs. These are popular songs covered by today's artists, or modern songs performed in a jazz style.
Popular First Dance Songs
The Way You Look Tonight - Frank Sinatra
It Had To Be You – Harry Connick, Jr. (cover)
Unforgettable – Nat King Cole
At Last – Etta James
Our Love Is Here To Stay – Ella Fitzgerald
Still adamant on having a DJ? Consider hiring both!  As Scott of Reception Jazz (Saint Paul, MN) notes, "A lot of people seem to be hiring DJs and live bands to compliment each other. This option can offer the best of both worlds and can really stretch your entertainment dollars." A DJ is a great way to still have music playing while the band takes a break, or a DJ could even take over the remainder of the reception.
If you're not totally convinced that jazz music will be a good fit for your wedding reception, consider this tip from Tara O'Grady & The Black Velvet Band (New York, NY): "A good band playing classic songs reaches every wedding guest from each generation." Jazz songs are an ideal choice because they're the tunes your adult guests remember fondly, and the music your younger guests likely grew up hearing. Not only are the songs family friendly, but many are fast-paced enough to still have everyone on the dance floor! If dancing is the focus, Brad of Portrait in Jazz (Westwood, MA) suggests requesting swing and band era songs, Latin music or late fifties and sixties blues.
Something you can discuss with your performer is whether or not they can put a jazz spin on some modern songs, like jazz singer Reba Buhr (Los Angeles, CA) does. She shares, "One of my favorite things to do is to take one of the couples' favorite "non-jazz" songs and create a jazzy version – everyone gets a big kick out of it!" If you're still unsure about what you want to hear, don't panic! Lady Be Good (Toronto, ON) tells us, "The best performances comes from clear communication and allowing us space to be creative in building the perfect playlist for the night!" Your performer is a professional, and with a few discussions, they can create a playlist that will be music to your ears.
No matter what style reception music you choose, GigMasters is here to help you find the ideal entertainer! Give our Account Services team a call at 866-342-9794, or email us at [email protected].