One thing that has never been a necessity to me was a formal wedding car. Flat-out, we didn't care, not even a smidge. This is just my opinion, and I totally understand that "it looks nice for photos" and that "you should arrive in style", but to me it just seems a bit posey (which I hate) and I'd much rather someone I knew drove me to the church than a chauffeur whom I'd never met.
I thought it was all done and dusted. David has said his uncle has a nice 'Beamer' or a 'Merc' or something along those lines and I just assumed that he'd do the favour and drop my Dad and I off, and David and I back at the reception. Then the thought came to me, (and where the controversy began)… my beloved little burnt-out, flower covered, battered, (technically) convertible VW Polo.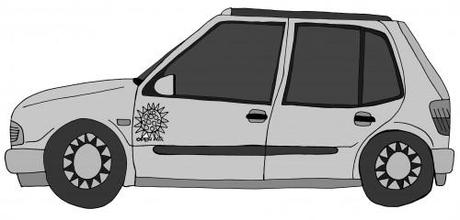 My Polo!!
I have been driving my little car since I was 17, it's taken Dav and I everywhere since we met, my Dad has a printing business and every so often will put more decoration on it (first was daisies, second sunflowers, third "Vivster on Board" on the back window..) and when I mentioned I might use it he said he'd do "Nearly Married" on one side and "Just Married" on the other, as well as covering it as much as possible in flowers. If you've ever seen the Sid James film Bless This House, I imagine it to end up like the teenage boy's hippy car: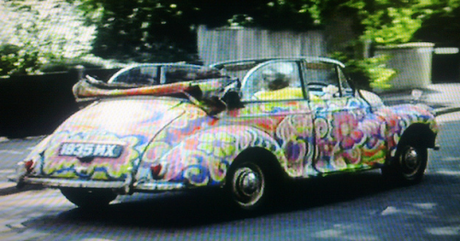 Bless This House Car
Well we plodded along with this idea until a week or so ago my Mum text saying "One thing- how are we all getting to the church?". I replied: "The Polo, Dad'll drive me there and I'll drive me and Dav back after the service", I think her exact reply was "Sally, please no, not the polo, please!". As much as I told her it would all be fine, and that she could hop in the back with the bridesmaids or they could go in the aforementioned 'nice car', I understood she was getting pretty worried.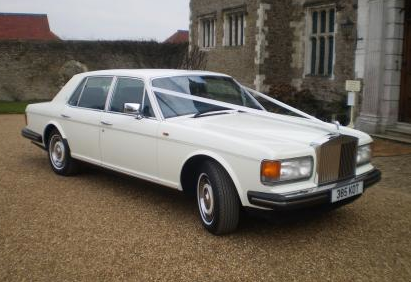 Rolls Royce Silver Spirit
The next thing I knew I was being regaled with what is now known by my sister and I as 'the story of the wedding car' (I have heard it around four times to date), Mum proceeded to get her bargaining hat on and booked a vintage Rolls Royce for 'my poor bridesmaids' and herself to get to the church. When she rang me up to tell me the details I reminded her that neither myself or David will be getting in the hire car at all, and that neither of us could care less; but I'm pleased that she and my girls will arrive in style at least. My Dad, David and I, however, have to wait until June to find out whether my love little banger will make it through it's MOT!
And to finished in the words of my friend, Carli: "And all for a car that isn't even old or quirky enough to be 'so bad it's good', it's just a bit crap!"