Continuing my theme of walks this week and to cross off number 1 on my
Keeping Fit Wish List
is walking the Seven Sisters in the South Downs.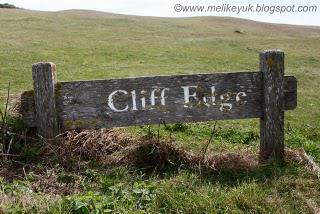 There are a few of these signs in The Seven Sisters Country Park
The Seven Sisters is a series of chalk cliffs forming part of the South Downs in East Sussex. They are positioned between Birling Gap and Cuckmere Haven.
We started off in the seaside resort of Eastbourne just across from
The Grand Hotel
. As long as you follow the coastal route, you cannot go wrong.
Our first challenge was to ascend Beachy Head. This is not part of the Seven Sisters series, but if walking from Eastbourne, it is something that has to be conquered! Beachy Head is the highest chalk sea cliff in Britain, rising to 162 metres above sea level, this explains why it is notorious for it's spate of suicides.
If your fitness, is anything like mine (i.e. practically non-existent) you'll be puffing and panting all way to the top. It will leave you begging for mercy. Fortunately, this represents the most arduous climb of the walk and while the other cliffs are hardly plain sailing, they are certainly more manageable!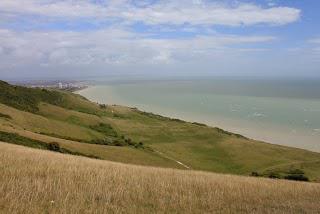 View from Beachy Head with Eastbourne in sight
Once you get your breath back, you are all immediately too aware of what is ahead of you. A series of green velvety undulating hills. Just gorgeous!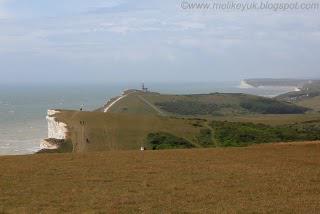 The View Ahead from Beachy Head 
An additional lighthouse was built in the sea in response to mist and low clouds hiding the light of the original Belle Tout(e) Lighthouse. It can be seen in the picture below.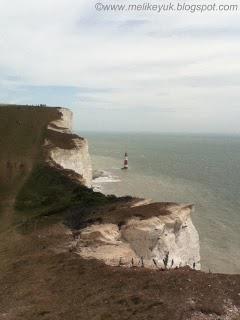 Looking at Beachy Head and Lighthouse

Continuing straight ahead, the next striking vision is the original Belle Tout(e) Lighthouse. It has been referred to as Britain's most inhabited lighthouse as the location is used for various film and television programmes.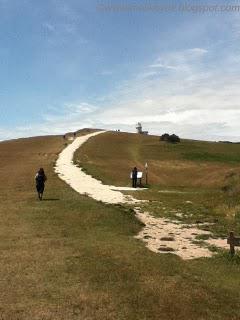 Heading towards Belle Tout(e) Lighthouse
The lighthouse was purchased in 2008 and turned into a luxurious bed and breakfast. Have a sneaky peak at the interior. Who wouldn't want to wake up to 360 views of The South Downs and the English Channel ?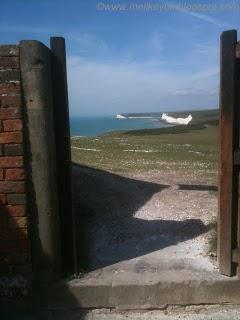 The view from Belle Tout(e) Lighthouse
With the lighthouse behind you, you are faced with a great expanse.This is a perfect spot for a picnic. However, be wary, because it is so exposed, at times it suffers from strong winds and you might end up chasing your sandwich! Instead, we decided to settle down for lunch at Birling Gap where we could get a full view of the waves lapping on the edge of the cliffs.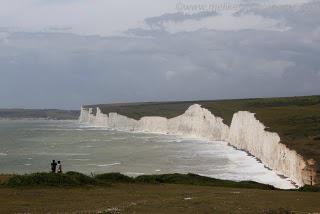 Birling Gap: A perfect spot for lunch
Birling Gap represents the start of the Seven Sisters and taking this route they are passed in this order:
Went Hill
Bailey's Hill
Flat Hill
Flagstaff Point
Brass Point
Rough Brow
Short Brow
Haven Brow - last and highest of the Seven Sisters
Funnily enough, there are eight peaks and not actually seven so I am not entirely sure which one should be excluded!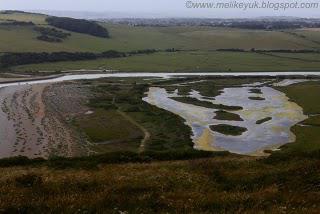 Cuckmere Haven : At the foot of the Seven Sisters
It does not take too much time to work your way up and down the Seven Sisters. But it finishes at Cuckmere Haven where you can give yourself a huge pat on the back. The walk from here is pretty level as you head out towards Exceat following the Cuckmere River. This should lead you to facing the Exceat Visitor Centre at the end of the track.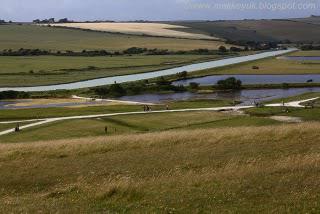 The Cuckmere Valley, heading towards Exceat
Depending on energy levels from here, you can take the 12/12A bus back to Eastbourne. If you want to challenge yourself further you can continue in the direction of Seaford for approximately 4 miles. This means crossing the Exceat Bridge and following the Cuckmere River on the opposite side.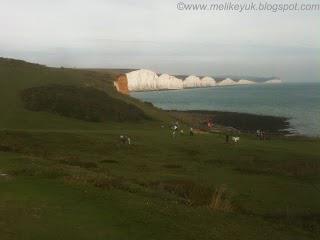 On the other side of  Cuckmere Haven, heading towards Seaford
From Cuckmere Haven, you climb a hill to be walking parallel to Seaford Head Golf Club. Continue to follow the coastline until the hill descends and leads you to the town of  Seaford.
Trains are not direct from Seaford to Eastbourne but you can change at Lewes.
Throughout the year, 
Metropolitan Walkers
lead walks in the South Downs, consult their website for further details.
Alternatively, use
Time Out Country Walks
 which provides a detailed guide of a similar walk in the area.
Trains are direct from
Victoria to Eastbourne
Distance from Eastbourne to Exceat is 10 miles
Distance from Eastbourne to Seaford is 14 miles
For the whole outing and longest walk, allow 12 hours for travel, food and walk.
Do you have any favourite walks? I'd love to know more about your choices!