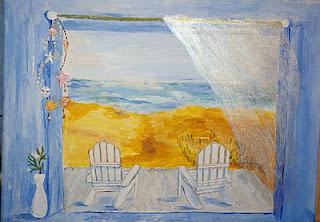 A while ago, I was asked to create a painting for my sister-in-law's guest room.
For a while I put the idea on a back burner. I just couldn't come up with a suitable idea.
Fortunately, she was still interested, so I decided to paint something with a window/door view of the beach.
I find the process of finding the right subject so challenging, sometimes.
I'm not sure why I get stuck.
I am happy with this so far. I think it needs a little more work, but I wanted to show my work in progress.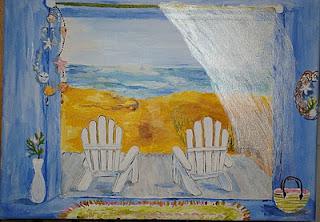 The image at the top is an earlier version of the work. I decided that the interior of the cottage needed some more detail, so I added the wreath, rug and tote bag.