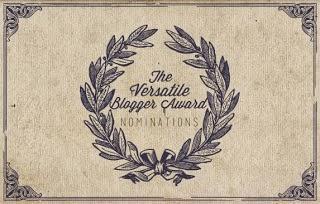 Thanks a bunch to Eva from Nothing But Prep ! I am so honored to have been nominated for the versatile blogger award.
This award is given to you by fellow bloggers for writing quality blogs that have touched you in some way, having good pictures with good quality, and the uniqueness of the subjects covered in their blog. This award is to honor the bloggers who bring something special to your life. 
How this award works:

1. Display the Versatile Award Certifacate on your blog




2. Announce your win and thank the blogger who nominated you: Thanks to Eva from 
http://nothingbutprep.blogspot.com
3. Present 15 bloggers that you think deserve this award. Link your nominees in the post. Leave a comment to notify your nominees.
4. Post 7 interesting things about yourself.
The 15 bloggers I would like to nominate are: 
1. Rebecca from Life With RME
2. Rebecca from Stay Styling
3. Laurel from Little Mrs. Laurel Rhyne
4. Samantha from Reddy or Knot
5. Dorothy from Prep In Your Step
6. Madison from Madison Lane
7. Bess from Belles in Bows
8. Ashton from Ashton Wears Things
9. Alyssa from The Lesson Plan Diva
10. Caitlin from Southern Curls and Pearls
11. Melissa from Simply Sweet Melissa
12. A. Liz from A. Liz Adventures
13. Elise from Cheers Y'all
14. Mikaela Rae from Mikaela Ray
15. Lauren from Pink on the Cheek
SEVEN fun facts about ME!1. I am OBSESSED with stripes...seriously striped anything and I'm there! 2. My absolute favorite movie EVER is The Devil Wears Prada...Meryl Streep & Anne Hathaway are just fabulous in it! 3. Hydrangeas and Baby's Breathe are my favorite flowers (odd combination I know!)4. I love the color pink but honestly...green is my favorite color...almost any shade except for lime and neon greens! 5. My favorite designer of the moment is Kate Spade...I honestly just can't get over how fabulous she is! 6. My leopard loafers are my go-to shoes...they really go with ANYTHING!7. My guilty pleasure is Ben & Jerry's Cherry Garcia Ice Cream...DELISH!Thanks again to Eva for the nomination! I hope y'all loved getting the nomination as much as I did!xo Breckenridge Clare