Isn't the blogosphere just full of  great people? I woke up yesterday morning to find that I had been nominated for The Versatile Blogger Award by Fabulous Fiona over at London Unattached .Who would have thought that little 'ole me would have been the recipient of such an accolade?
I'm touched. Thank you Fiona for considering me. I am sending you a big virtual hug.
It is even more flattering to get this award as although I'm not new to blogging, this blog is relatively new. With a break from blogging as we temporarily relocated from London to Hong Kong, it gave me time to redesign my blog, freshen up the content and focus exclusively on the food related posts. For me, these were the most rewarding and they seemed to strike a chord with my foodie chums. It was a natural next step. There are a plethora of food blogs out there and I continue to be inspired by fellow bloggers. I am constantly learning about food trends, exotic ingredients, food photography and of course, social media. I am under no illusion that I need to further develop my blog but for now I am just enjoying the journey.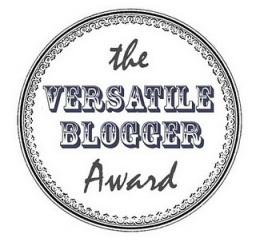 The Versatile Blogger Award
The rules for the award are:
Thank the person who nominated you for this award and link back to them.
Say 5 random facts about you.
Spread the joy by nominating other bloggers.
Let the blogger know about the nomination.
Five Random facts about me:
Since moving to Hong Kong, drinking Champagne, Chablis and Sauvignon Blanc induce the worst headaches. But in Europe I don't have any headaches. Bizarre! So you can imagine how I spend my time when I am back in the UK

My guilty food pleasures include Beef Hula Hoops and Cheddar and Onion McCoys crisps. Oh yes it is!
My work placement when I was at Uni, involved being part of the Opening Crew at Eurodisney. This is where I met my hubbie

Unlike many foodies, I don't like the taste of cream, especially when it is a constituent of many cakes and desserts.
I am a qualified accountant, business analyst, project manager and for my sins I have run projects for a number of multi-national banks. (Yawn!)
My Blogger Nominations are:
What a great way to recognize a blogger's contribution!