Love, warfare, intrigue and oh yes, the pyramids.
by
Paul J. Pelkonen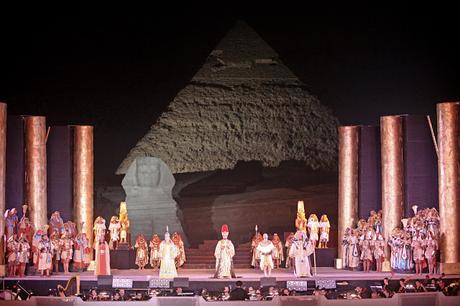 A performance of Aida in front of the Great Pyramid of Giza, March 2018.
Throughout his career, Giuseppe Verdi was determined to follow in the footsteps of other Italian composers (most notably Rossini and Donizetti) and conquer the Parisian stage. However, his attempts at grand opera:
Jerusalemme
,
Les vepres Sicilienes
and
Don Carlos
were met with indifference. It was with
Aida
, set to an Italian libretto by Antonio Ghislanzoni that Verdi would incorporate the lessons of grand opera in a work that combines private anguish and public spectacle and still packs opera houses today.
Aida
was the last opera to be commissioned before Verdi entered a temporary retirement. It was commissioned by the Khedivial Opera House in Cairo, Egypt, by the Khedive of that country. After a two-year delay, the opera premiered in 1871 before an audience of VIPs. However, Verdi himself considered the "real" premiere of the opera to be on the stage of La Scala in 1872. It quickly became an international sensation. Thanks to its combination of a sad, moving story, thrilling public spectacles (the grand opera element) and some of Verdi's most inspired music, it has never left the repertory.
In the late 19th century, Egypt and Egyptology became the rage in Europe. The translation of the Rosetta Stone and the discoveries of ancient tombs and treasures along the Nile influenced art, style, architecture and music. Verdi, who had set most of his operas in Europe had flirted with exotica in early works like
Nabucco
(set in Babylon) and 
Alzira
(set in South America) but the score of
Aida
represented a departure. He made effective use of harps, struck percussion and five note scales to spice the music with just enough difference that the listener imagines the breezes of a foreign land, even if the grand triumphal procession owes more to the Roman Empire than the Old Kingdom.
If you're an opera producer and can afford to mount a large production,
Aida
is your meal ticket.  It has been presented on the stage of the Met more than any other opera, and still gets performances in Egypt itself: pricey affairs in an amphitheater in front of the Great Pyramid of Giza. The work requires choruses, crowd scenes and the famous
Triumph
in Act II, depicting the return of a victorious Egyptian army from war with Ethiopia. However, all this spectacle is window dressing for a simple, agonizing story: a love triangle between the Pharoah's daughter, a gormless Egyptian military officer and the title character: an Ethiopian princess who lives as a palace slave.
The opera's opening establishes that Radames is in love with Aida, who cannot risk a public display of affection. That's because her mistress, the Princess Amneris is dead set on marrying Radames. This triangle reaches its breaking point when Aida's father, the Ethiopian King Amonasro, is captured. He manipulates his daughter to persuade Radames to give up a key military secret. Radames is arrested, tried and sentenced to death by suffocation. Aida (somehow) joins him in the tomb and they slowly expire, using up their oxygen while singing "O terra, addio."
The road to pyramidal suffocation has some of the greatest music Verdi ever wrote. The public scenes (the temple finale of Act I and of course the triumph) are contrasted with the private anguish of the two female leads. Aida is a fairly standard tragic heroine, torn between her love of her homeland and her father and her loyalty to Radames. She has two great solo numbers: the "Ritorno vincitar" monolog in the first act and the formal aria "O patria mia" sung on the banks of the Nile. Radames is a stock figure too, but gets "Celeste Aida", a number that tenors always spoil by singing the last high note at full forte instead of the
diminuendo
called for in the score.
Amneris undergoes a real evolution: from a one-note jealous would-be lover to someone who realize that Radames is being tried and sentenced unfairly. The opera's last scene, with the suffocating lovers below and Amneris at the temple altar praying for peace, is one of the most moving tableaux in any opera. Finally there are three great roles for the lower male voices: Amonasro, who is one of the most toxic of Verdi's many father figures, the
basso
priest Ramfis, who is bloodthirsty and a second cousin to the Grand Inquisitor from
Don Carlos
, and the King of Egypt, who gets one impressive chorus to lead: the martial "Su del Nilo."
Recording Recommendations:
As one of the most popular of Verdi's operas, Aida has been recorded a lot. Placido Domingo sung the role of Radames four times on disc. Maria Callas recorded it twice in the same year. Leontyne Price also laid down the opera twice. Here are some solid recommendations:
Coro e Orchestra de La Scala cond. Tullio Serafin
EMI 1951
Mexico City Orquestra del Palacio de Bellas Artas cond. Oliviero de Fabritis
EMI 1951
Maria Callas recorded this opera twice in 1951. One set (black box) was made at La Scala with Tullio Serafin conducting, and Richard Tucker as her Radames. The other (blue box) has an inferior conductor and sketchy sound quality with the Oliviero de Fabritis occasionally audible from the podium. But it's worth it for fans of the hyper-masculine Mario del Monaco who sounds ready to invade Ethiopia, the Sudan and possibly climb Mount Kilamanjaro!
Callas only recorded this opera early in her career, so both sets are in monaural sound. She is in good voice, although she adds some sobs and mannerisms to the performance that seem to belong in another opera entirely. Neither is a first choice, but both are of interest for Callas fans and opera historians.
Rome Opera Orchestra and Chorus cond. Jonel Perlea
 (RCA/Sony, 1955)
An early studio
Aida
, featuring the wonderful pairing of Zinka Milanov and Jussi Björling as Aida and Radames. The mono sound doesn't have the same "wide-screen" effect as more modern recordings of this opera, and the transfer is marred by audible hiss (especially in the Grand Consecration scene.) However, the singing (especially Björling's stunning "Celeste Aida" and Milanov's "O Patria Mia" with that famous, floated final note) makes this a compelling entry.
Vienna Philharmonic cond. Herbert von Karajan
(Decca, 1959)
This was the first stereo recording of
Aida
. It's still the best. Renata Tebaldi and Carlo Bergonzi are perfectly matched as the lovers. Karajan was at a peak with his Vienna forces, and although he recorded the opera again for EMI, that set was hurt by a cast which could not hold up against the conductor's patented orchestral assault. Carlo Bergonzi shows why he was one of the finest tenors of the 20th century, and Renata Tebaldi is unsurpassed in the title role. The classic.
Rome Opera Orchestra and Chorus cond. Sir Georg Solti
(Decca, 1962)
Leontyne Price recorded the role of the Egyptian princess twice. This was her first version of the opera, recorded prior to her Met debut in the role. She is surrounded by a strong cast, featuring Jon Vickers, Rita Gorr and Robert Merrill as Amonasro. Georg Solti conducts the Triumphal Scene as if it were a Bruckner symphony, with trumpets squarely to the fore. This set is a strong alternate with starry casting.
Coro e Orchestra de La Scala cond. Claudio Abbado (
Opera d'Oro, 1972)
If you must have Domingo as Radames (and he's pretty good!) the set to have is this this 1972 live recording opposite Martina Arroyo in the title role. Freed of the constraints of the studio, this is electric Verdi. The great tenor's voice was at an early peak, before it darkened. Claudio Abbado (whose 1981 studio set with Domingo and Katia Ricciarelli has its merits) demonstrates his sensitivity and skill as a Verdi conductor. Kick-ass.
Orchestra and Chorus of the National Academy of Saint Cecilia cond. Sir Antonio Pappano
(WBC, 2015)
This recording, laid down in February, 2015, captures the intimacy of this opera in a slow, measured account that sprawls over three generous discs. Tenor Jonas Kaufmann comes to Radames with a clean and pleasing, vaguely Italianate timbre and a secure lower register. Anja Harteros is well cast as Aida, singing the part of the distressed girl with careful guidance from the pit and a sure command of the vocal line. A modern alternative.