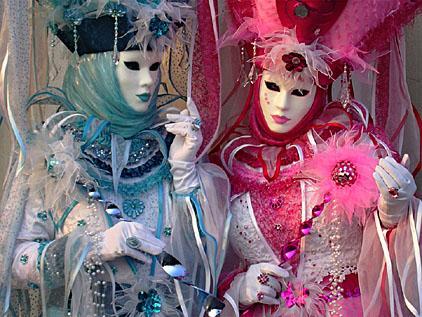 Carnival In Venice  http://www.carnevale-venezia.net/
The carnival is near. The folk events are many all over Italy and each has its own special charm. Obviously there are places where the carnival has become a cult: Viareggio, Ivrea, the famous Venice Carnival. Every year some special events – that make carnival special - are organised in Venice.
This is the schedule of the 2013:
Saturday, January 26
the show on the water "Metamorphosis Aquaticae
Sunday, January 27
You will attend a

procession on the water

that will pass through the major channels - including Canal Grande. The show will be definitely pleasant. My suggestion is to go on the river of Canal Grande. There will be a lot of people, so you should come a little in advance to have a good location and view. After the parade you can find some food stalls with drink and food. A suggestion? Taste

galani

– a  kind of chiacchere. It will be a great food experience!
February 3
There is symbolic event of the Venice Carnival, the flight of the angel.
You may be impressed at the beginning, but it's all under control! I tell you this because the first time I saw the angel flight, I thought  that  it would be a tragedy  ... I was wrong of course! What is it?

A guest will be flown from  the Bell  of  San Marco  to the ground of the Square.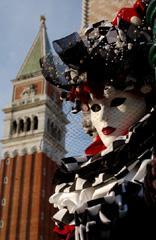 http://www.carnevale-venezia.net/
February 12
The carnival will end and there will be "

Vogata in silenzio"

, the boats candlelight flow for channels coming to San Marco and saying goodbye to the Carnival 2013. It's quite sad!
These are the main public events of the Venice Carnival, but you will find a lot of parties everywhere.  The only difficulty will be choosing where to go.
There are stores specialized in rental of carnival dresses and vintage clothes, why  don't you rent a dress ?  Surely you will  have fun.
official site
http://www.carnevale-venezia.net/
Post related
http://www.learnitalianow.net/2012/02/what-to-eat-chiacchere.html
http://www.learnitalianow.net/2012/02/now-in-viareggio.html
http://www.learnitalianow.net/2012/07/what-to-visit-bridges-of-venice.html
http://www.learnitalianow.net/2012/01/what-to-visit-doges-palace-venice.html
http://www.learnitalianow.net/2012/03/what-to-visit-canal-grande-venice.html
http://www.learnitalianow.net/2011/11/what-to-visit-san-marco-square-venice.html