I am really enjoying my raised vegetable beds this spring and they have already proved to be very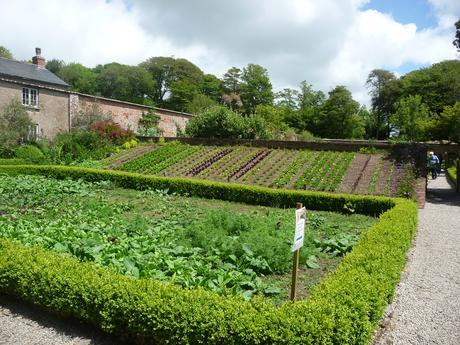 productive although keeping birds off some of the plants has been a challenge! We have been eating salad crops for weeks and the leaves last so much longer in the fridge than those bought in the supermarkets as well as tasting much fresher! Spinach too has been a bonus in the kitchen cooked in a gratin as a side dish or with pasta and cheese sauce in a bake. I like to use the larger leaves in cooked dishes and enjoy the smaller ones as part of a mixed salad.
I planted some broad beans towards the end of March and despite the recent gales they are now full of flowers and have small pods appearing – a sign that the bees have done their work! With plenty of water if the weather gets dry, they will soon swell and we will be able to enjoy one of our favorite early summer vegetables. This year I will definitely make an autumn sowing for hopefully an earlier crop next year!
Carrots that were sown at the end of March have grown well and soon we will be able to harvest baby finger carrots – delicious steamed or roasted in the oven. Nothing beats the sweet taste of home grown carrots even if they are misshapen and not perfect like shop bought ones!
A row of beetroot was destroyed by birds - attracted to the bright red shoots as the seedlings came through the ground - and the space has been filled with a double row of dwarf French beans which were covered with a makeshift cloche of wire netting and fleece to protect them from the strong winds. These will take a few weeks to mature but always fill the gap between broad beans and runner beans and are a handy vegetable for summer dishes as well as pickle for the winter.
My courgettes have just been planted out and are looking a bit yellow so a liquid feed to green them up and get them growing is in order. Courgettes and other squashes hate cold weather and strong winds so they deserve some special treatment now with the hope that the weather will soon warm up! I can never have too many courgettes and picked when they are the size of my little finger, fried whole in butter and lemon juice they are a special treat although my husband would not agree. He does however love the courgette and walnut chutney that I make through the autumn once this vegetable threatens to overrun the kitchen!
A few days ago we visited a local garden owned by the National Trust and we were drawn to the lovely walled kitchen garden there. As well as vegetables there were neat rows of flowers  being grown for cutting including Snapdragons and Sunflowers but what really caught my eye was a beautiful variety of broad bean with crimson red flowers – definitely a variety to try next year. I must start to hunt down the seeds now!