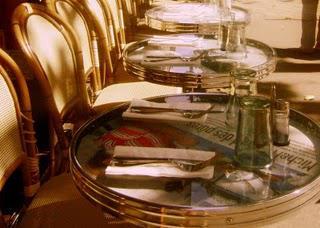 This is what I picture when I imagine a Paris cafe.
I've never really liked the term "soft opening" when referring to the commencement of a business. It's a term restaurants and hotels like to use to describe that they have in fact opened, but have not had a big party to celebrate it yet. It is followed eventually by an "official opening", which should, by comparison, be called a "hard opening". But the fact is, the "soft opening"
is
the "hard opening", because that's the time when nothing works, all the staff make mistakes, the recipes turn out to be unloved by the clientelle, and if they're not busy upsetting customers, then the staff sit idle waiting for them, just hoping for a little more practice.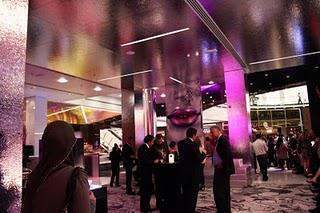 This is Dubai's version of a Paris Cafe
Last night I went to a new cafe that I have been walking past for at least two months. No soft opening, no official opening, but open, nonetheless.
Fauchon is a Parisian Cafe. The Fauchon in Paris is a gourmet grocery store with a bakery and delicatessen attached on Place de Madelaine in the 8th arrondissment, equidistant from the Champs Elysees, Opera and Printemps (yes, fancy pants area).
As with the term above, nothing is what it seems. Firstly, it's not a cafe, and secondly, it's not what I would describe as "very french". But maybe that's just me. When I call up memories of France, I don't think of Louis Vuitton, Chanel and YSL. Sure, they
are
French, but to me, France is all about croissants flaking into my cafe au lait, tiny tomatoes and radishes at stunning markets, toy boats in the pond at the Luxembourg gardens, skinny women with pretty dogs and bouffant hair, obscurely labeled Champagne in the afternoon on a picnic rug, degustation at wineries with flirty winemakers, and romantic art and architecture everywhere you look. When I recall Paris, I don't think of Philipino waitresses in a mall, in a shiny geometric black, white and pink pleasure cube that to me looks like it should be a nightclub.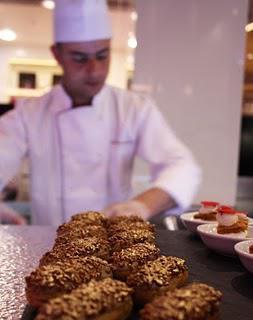 Saying that, Fauchon Dubai is similar to the Paris model (the YSL of Parisian cafes), and well worth a visit. Do you remember my last post, when I was talking about the next big fashion in food? I thought maybe it could be turkish delight. But I was wrong - it's going to be eclairs. And Fauchon have the most preposterously good caramel eclair I have ever sunk my teeth into. This alone is worth a daily trip. It is so good, I would even walk there daily in summer to have one. They served it last night in mini-form. It is a choux pastry finger, piped full of caramel cream, and topped with chocolate, flecks of crunchy caramel toffee, and gold leaf. I'm going absolutely mad just sitting here describing it, so I might just have to take a moment.....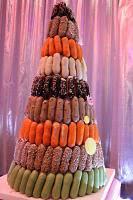 The chef had erected a
piece montee
in the back corner of all these mini-eclairs. Possibly he has the same notion that I do - that the eclair has fashion promise, and prepared the correct way, it may even take off wedding-cake style as macaroons have. but I realised something while looking at this odd construction that appeared to be made of baby eggplants, carrots and zucchini. They need to be round. Not only that, they need to be obsene colours - hues far less vegetative. Chef, if you are reading, please let me know if you ever decide to make a
piece montee
of strawberry, vanilla and caramel round eclairs - now
that
would be a photo. But I would probably demolish it double-time.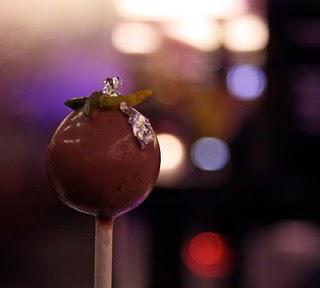 The odd presentation continued. Scallops came macerated in inverted syringes. House-cured salmon came lolly-pop style on sticks of grissini, and I picked up one of these lovely-looking chocolate lollipops, and had already popped the entire lot in my mouth as my companion's answer to "what is it?" came out of the waitress's mouth: "liver goose". Little shock, I must say. Luckily I like "liver goose", but prefer it infinitely when it is called paté. If she had said it in a French accent I would have liked it even more.
Like the Paris version, there is a shop attached in Dubai (Mall of the Emirates), and you can find all kinds of treats that are as pretty as a picture and priced accordingly - the kind of thing some tend to look at more than eat. There is an excellent selection of tea that is purchased by the scoop, a rarity for Dubai. The patisserie is sublime. Here, they emulate the french perfectly - each piece of pastry is
une
œuvre
d'
art - exact, too good to be true, and a shame to destroy by the act of consumption. The chocolate is likewise exceptional, and tastes as good as it looks. And of course the packaging is worth the price alone - the macaroon tins are destined to house jewelry, tea or buttons in their subsequent lives, and possibly turn up in the year 2150 on ebay for a small fortune.  
The verdict? Go. Don't expect it to be a french - you are in Dubai, after all - the antithesis of Paris. And don't expect it to be a cafe, because it is more than that. But you can expect it to be worth the trip, especially if you find a caramel eclair to put in your "soft opening" (I mean your mouth...)
Leave me a comment and make my day...