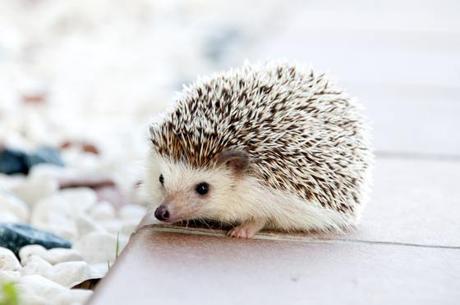 "What is the purpose of a Hedgehog?"
This question popped up in a discussion about endangered animals and particularly endangered hedgehogs. Images of cute little hoglets flashed through my mind as well as beautiful illustrations from the book The Tale of Mrs. Tiggy-Winkle by Beatrix Potter. After cats, hedgehogs might be the internet's favourite animal. There are hundreds of cute images of hedgehogs having a bath. . .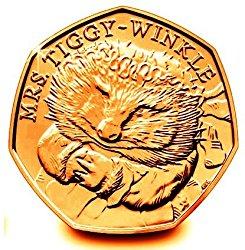 Then someone suggested that hedgehogs are useful because they prey on many garden pets. I nodded and the conversation moved to a different topic.
In a blog post written a couple of years ago, I explored the idea that ugly is interesting. "Raising the profile of animals that are not at first sight "cute and cuddly" makes us think about our underlying values and the way we are "automatically" drawn towards certain things, animals, or people."
Here I stumbled on another value that underlies the way we think about saving animals: animals that are useful should be saved. Or should be saved before animals that are not useful. It costs a lot of money to save animals. Should we instead focus on protecting habits where animals live.
It costs a lot of money to save animals. Should we instead focus on protecting habits where animals live.
So the question we asked this month was focused around this topic.
We collected information about why hedgehogs are useful?
We thougth about what kind of animals that are not useful?
Positive and Negative things with only saving useful animals?
And how to we know which animals that are useful?
Different ways to measure the value of things. Go here to read more about value in the blogpost Mind Mapping - Value Earth.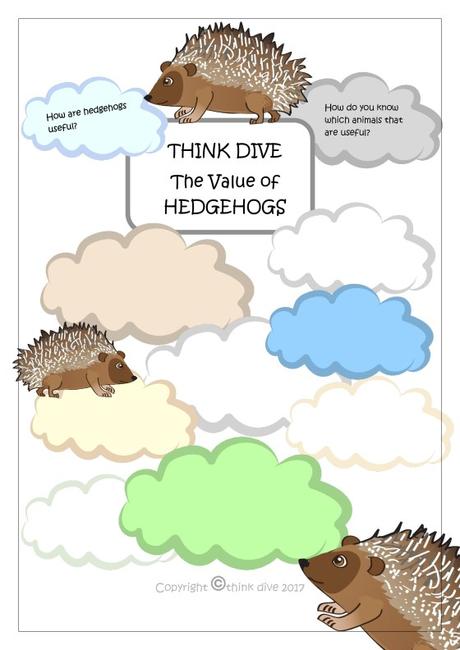 Download the PDF-file for free.
Think dive Hedgehogs
Facts about Hedgehogs
The hedgehog got his name because of his funny foraging methods. A hedgehog prefers to live in hedges and he makes like pig-like grunts.
The male hedgehog is called a 'Boar'
A female hedgehog is called a 'Sow'.
A group of hedgehogs are called and array.
They search through hedges and other undergrowth when they are looking for small animals.
Hedgehogs eat insects, worms, centipedes, snails, slugs, mice, frogs, birds' eggs and chicks, lizards and snakes. They also like to munch on fungi and roots.
They roll into spiny ball when they feel threatened. The prickly ball of sharp quills scare away most predators.
A hedgehog has between 5 000 and 7 000 quills.
The quills are hollow and strong.
Hedgehogs hibernate in cold climates.
In deserts, they sleep through heat and drought - aestivation.
Hedgehogs have poor eyesight
They are more or less immune to snake venom.
Mind Map