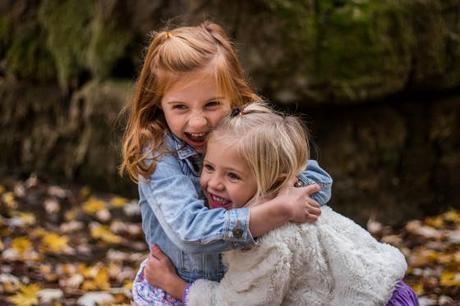 What can be better than to cuddle up in the sofa and listen to a story while the autumn leaves are dancing on the streets?
Madeline Finn and the Library Dog
by Lisa Papp
Cracking the reading cde takes time. And for some children it takes longer time. Madeline Finn and the Library Dog
by Lisa Papp is a beautiful story that offers reassurance for anyone who worries about making mistakes when they are reading. The heart-warming book is also just perfect for discussions about how we all learn at a differnt rate.
Stars are for understanding words, and for saying them out loud. Madeline Finn wants a gold stars but stars are for good readers.
Madeline doesn't like to read. Not even the menu on the ice - cream van! She keeps getting the words muddle and wrong. Her teacher tries to encourage her to read but it is not until she meets a beutiful white dog at the library that she feels her confidence grow. Madeline Finn is
Madeline is given a chance to read for the dog who does not mind at all if Madeline gets the words wrong. Bonnie is patient and does not rush her. She simply lets Madeline pet her whilst she tries to work out the tricky words.
Inspired by Read-to-Dogs programme, Lisa Papp has created a story with endearing illustrations that shows us that with patience and compassion, we can shine and grow in confidence.
Money for the sales of the book will be donated to Pets As Therapy charity. This UK-based charity brings specail PAT-dogs into schools where children can read to their dogs.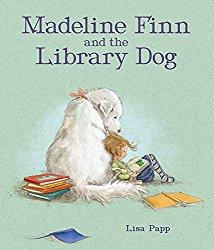 Inside, Outside, Upside Down
by Yasmeen Ismail
A creative, clever and fun book that gives your brain a work-out. A gentle reminder that everything is a matter of perspective.
In the book, Inside, Outside, Upside Down: Draw & Discover (Draw and Discover), you are encouraged to draw, colour-in and discover. Meet Bear, Duck and Rabbit and follow them through a topsy-turvy world of opposites and differences.
Beneath the simple line drawings and primary colours hides an important messages - understanding the world is about understanding everything in relation to everything else. A complex message but this book cleverly mixes the message with doing. Love it.
Action please!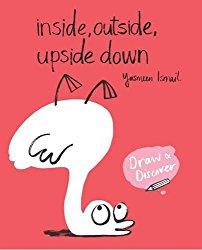 Let your imagination soar!
Happy, Sad, Feeling Glad: Draw & Discover (Draw and Discover)
Push, Pull, Empty, Full: Draw & Discover
This book is part of three creative playful activity books. The other two books are just as brilliant.