The Trend Edit AW'12: The Peplum


I'm going to hit two birds with one stone in this AW'12 trend edit post: leather and the peplum. One of the hottest trends for AW'12  is the peplum and the other, leather. Now put said trends together and you have one sexy garment. Why do I love the leather peplum so much you may ask? Well, for starters the peplum is going to flatter the majority of silhouettes out there: it covers any bloating, pot belly or over-indulged stomach. It gives curves to a straight, boyish figure, balances out wide shoulders and to top it off: it's going to make any outfit appear for 

feminine and dressed up. You can pair a simple peplum top with skinny jeans, trousers, a pencil skirt, a mini skirt...the possibilities are endless. I recently bought one, paired it with some black high waisted skinnies with the legs rolled up just above the ankle and a floral waist belt. I'm actually considering applying some spike studs to the waist line to give it some more edgy aesthetic as well.
Then you have the leather aspect coming into play. As you may know, I'm a complete sucker for anything leather: it's my inner teenage goth coming through and I'm not ashamed of it, so to have two of my favorite trends collaborate into one piece of clothing that can be styled and worn in a multitude of ways is just a dream come true for me.
So, with these trends being such a hit for AW'12, naturally I went on the look out for a new season favorite and because I'm such a nice person, I put them into a little style set on Polyvore for your viewing pleasure. Let's go through them one-by-one shall we?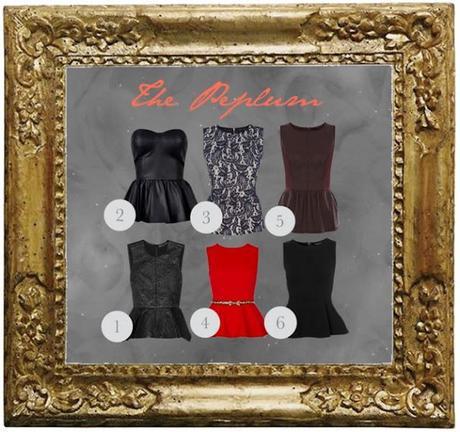 1.

Elizabeth & James Yumi brocade peplum top at Net-A-Porter - £205

 - I love the detail and texture on this particular top as it'll give any look that little bit of 

dimension

 and feature. The brocade detailing was also a huge trend on the catwalks in February - particularly with Balmain. At £205 it's a little higher up on the price budget, but it's gorgeous none the less.


2. Metallic peplum bustier at AllyFashion.com - $29.99 - This bustier peplum would look fab paired with a pencil skirt and studded waist belt. At $29.99 it's within most budgets, but the fabric is a definite tell-tale of being rather cheap. As style goes though, it's a winner.
3. Oasis bonded lace peplum - £35 - I can honestly say that this lace peplum is high up there on my favourites list. I love the color and texture that the lace gives the top. You sure as hell couldn't walk by someone on the high street without them wondering where you bought that from. I would pair it with some skinny jeans for a more dressed up casual look. It's definitely marked down on my shopping list, what about you?
4. Red peplum top at River Island - £25. So far we've had black and textured peplums, but now we have one with a wow factor. This red peplum would look great when worn out to dinner, or for drinks with the girls. It has the same comfortable and casual cut, but with the striking red material, it's going to take you that little step farther and update your look for the evening. I hate the majority of things with animal print though, so the belt which accompany's the top would have to go. In terms of styling: leather leggings and a wedge heel would go perfectly with this.
5. Oasis faux leather peplum - £42 - I love, love, love this peplum top from Oasis. You can choose from either a wine red or black and being in a faux leather, will bring you into two trends for AW'12. I would choose the wine red coloured version, purely because that deep, sultry color will be on trend this season and it will break up the blacks in my wardrobe at the minute. This is another garment going straight onto my shopping list!
6. Topshop sleeveless peplum - £18 - Just like with the LBD, you need a classic black peplum. This one from Topshop is very similar to the one I just recently purchased and so far it has proved a great buy. It goes with pretty much every skirt and pair of jeans/trousers that I own and can be styled up in a variety of ways due to the color being so versatile. 
What do you think of this particular trend for AW'12? Will you be adopting it? If so, how are you going to wear it?