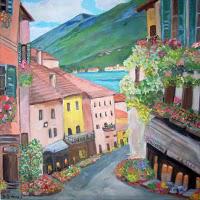 Painting: Bellagio Town by Teresa Dominici, Year: 2009, Medium: Acrylic, Sold.
Lake Como sits deep and cold in a valley of the Italian Alps.  At its southern end a long promontory splits it into two arms, the western side continuing as Lake Como, the other as Lake Lecce.  Bellagio sits at the end of this promontory, a stunningly beautiful little town in an unparalleled setting; some say the prettiest town in Europe.
Bellagio stands on the lake-shore and is divided by the via Garibaldi, which is criss-crossed by a series of pretty lanes which run up and down the hillside to the lake. There are many beautiful buildings along the lakeside all pastel shades with red roofs. In the Middle Ages, Bellagio was a small town fortified by walls and a castle. The bell tower of the Basilica of San Giacomo is all that survives of the fortifications. We took in the town of Bellagio itself, and strolled around the grounds of the Villa Melzi, which had wonderful gardens. 
Many of the streets are not meant for cars as they have lots of steps, many climbing at a 45 degree angle from the lake to the top of the town.  Wandering up and down the stone steps and little cobblestone streets will lead you to shops selling gorgeous pottery, antiques, leather and silk.
All kinds of water sports are enjoyed during summer and in winter, skiers head to San Primo Mountain. Public and private boat transportation is well provided and a fast hydrofoil goes to Varenna, Colico, Lecco and Como. Water taxis are plentiful.
Lake Como Travel Guide - Bellagio [EN] Video by: http://www.vacanzelago.com/en/index.php
Bellagio is a beautiful town half way down the two legs of Lake Como, surrounded by green mountains, blue water and calm skies, its the place that Stendahl called an outstanding landscape in Italy.