The island of

Capri

is absolutely beautiful and worth seeing, it was our second trip there.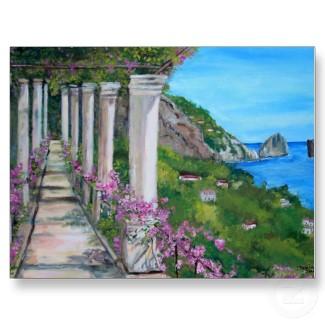 Capri Postcard
by
tdominici
Make postcard
designs on zazzle.com
Capri

is only four miles long by two miles wide and very mountainous. The highest point is almost 600 metres above sea level and can be shrouded in cloud while the rest of the island enjoys the hot Mediterranean sun. There are many caves and impressive cliffs throughout this hilly island.
Here is a list of some of the famous sighting to see on the island of

Capri

:
Anacapri

is the second biggest settlement on the island, and not so infested with 'the glamorous scene' as Capri town is. Must see is the Casa Rosso, a free museum located in an historic house which you
can see the permanent exhibition of

paintings

glorifying the beauties of Capri island as well as Roman statues found in

the Blue

Grotto.
The

Church of San Michele

in Anacapri is famous for its beautiful majolica floors showing the scene of Adam and Eve's expulsion from Eden.
The

Natural Arch

 

is believed to have been formed from a cave after an earthquake more than 2 million years ago. Its shape has changed over the centuries due to rain and wind erosion. The arch measures some 200 metres high and can be located at the eastern side of the island.
The Museum-House of

Villa San Michele
is
Anacapri's most visited tourist attraction

 and is located just a few meters from Piazza Vittoria, central square of Anacapri, at the end of a characteristic shopping street and enjoying breathtaking cliff edge views over Capri.
The

Blue Grotto

 is probably the most famous natural attraction of the isle of Capri.
On a great spur of rock almost directly above the Grotta Azzurra, Tiberius'

Villa Damecuta

is one of Anacapri's most visited sites.
The summit of

monte Solaro

is the highest point of Capri (589 meters/2062 feet) and provides breathtaking views over the bay of Naples and Salerno.
Migliera

  an enchanting pathway which winds its ways through woods and vineyards to one of the island's most spectacular viewing points.
Augustus Gardens

(Via Krupp)  - Flower festooned terraces overlooking the Faraglioni, and a spectacular path carved into the cliffs.
Faraglioni
three massive sea stacks sculpted by the wind and sea, and the symbol of Capri.
Marina Piccola
the bay home to famous beach clubs and fish restaurants with view of the Faraglioni.
Marina Grande
the busy port of Capri offers visitors their first taste of life on the magical island.
Capri, Italy
Video by:

Dennis Callan
http://tourvideos.com/
Capri's
Blue Grotto, a sea cave with glowing blue water, shining with a brilliant light. Other sights include the communities of Anacapri, Capri and Marina Grande.