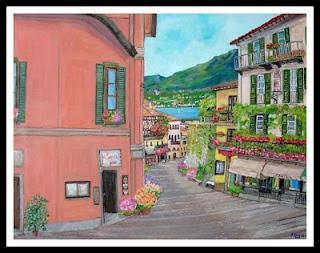 Painting by:

Teresa Dominici, Acrylic on canvas, Year: 2012, Commission-Sold.
This is
S
alita
S
erbelloni
in
the gorgeous little town of
Bellagio
(is considered by some to be one of the most beautiful towns in
Europe
) on the famous Lago di Como in
Northern Italy
Poets and artists have been drawn to Bellagio and Lago di Como for centuries.
"
S
alita
S
erbelloni

" is a steep set of steps which ascend from the Lungo Lario Manzoni ( in Borgo all the way to Via Garibaldi on the edge of the Villa
S
erbelloni's property. The
S
alita
S
erbelloni

is known to locals as "il Fossato" or the ditch, because long ago it was a ditch used in defending the old town. Portions of the thick town walls in which there were three gateways can still be seen.
Today, there are shops, restaurants and hotels on the town's waterfront, and the
S
alita
S
erbelloni

has also evolved into a center for activity with many shops, cafes and some small, quaint hotels on each side of the many steps leading to the top
Bellagio - Lago di Como
By:

Vacanze Lago

,

http://www.vacanzelago.com/en/
Bellagio, affascinante borgo a metà dei due bracci del Lago di Como, fra montagne verdi, acqua azzurra, e cieli tranquilli, il luogo che Stendhal definì un paesaggio senza eguali in Italia.