Montreal is the largest city in the French-speaking province of Quebec. It's also the second largest city in Canada. With such attributes, the city is sure to offer the majority of its visitors with something to do. While many visitors are put off by the idea of "needing" to speak French, this simply isn't the case. The majority of those residing in Montreal are well-versed in English and those working in customer-facing roles tend to be bilingual (although may greet visitors in French until instructed otherwise). So, what are the five best things while traveling in Montreal? Let's take a look at what Montreal has to offer.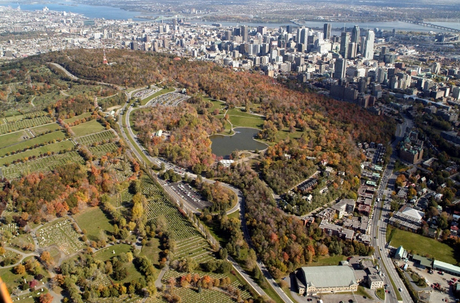 Parc du Mont-Royal
No visit to Montreal would be complete without a visit to its parkland namesake. This park contains a 761 foot hill, which is where Montreal derives its name from. It is the largest of the city's parks and is conveniently located in the downtown sector. Visitors can access it from the green and orange line metro stations (Peel and Mount Royal respectively). Visitors to the park also have access to various amenities that offer cityscape views, such as the Chalet du Mont-Royal.
La Ronde Amusement Park
Located just outside of Montreal on Saint Helen's Island, it is the largest theme park in Quebec and provides a suitable family outing for most age groups. It offers a variety of thrill rides from roller coasters through to infant-friendly rides including the carousel. New attractions are regularly added to the park so as to encourage repeat visits, but visitors are advised to leave a bit of time in between visits to ensure that these attractions come to fruition and are operational. La Ronde is also home to l'International des Feux d'Artifice. This is a bi-weekly summertime event where representatives from different countries of the world compete against one another in a fireworks competition; putting on grand displays for visitors.
Jean Talon Market
Canada is home to many open air markets and Montreal is no different. The Jean Talon Market is located on Saint Laurent Boulevard and can be accessed from the De Castelnau metro station. It primarily caters to local and ethnic cuisine from European sausage, local cheese, and a variety of international spices and handmade delicacies.
Montreal Botanical Gardens
A rarity in Canada, the Montreal Botanical Gardens is open year-round for visitors between 9 AM and 5 PM (6 PM on peak summertime days). Entry to the gardens includes access to 10 greenhouses that each carry a certain theme, which present over 26,000 species of plant life to the general public. It's also typically a destination for schoolchildren on class trips with its outdoor display, which includes a spread of poisonous plants. It is located just north of the downtown core and can be accessed from the Pie-IX metro station.
Montreal Poker Tournament
Montreal is home to the $1 Million CAD guaranteed poker tournament, which is known as the Montreal Festival Main Event hosted by Full Tilt Poker. Players earn their way into this tournament by participating in freeroll competitions on the Full Tilt Poker service; then the top 50 players in each freeroll become eligible to travel to Montreal in order to play in this tournament.
The tournament is played across a weekend in September with the first day being dedicated to qualification rounds. The most successful players in these rounds take their best chip stack through to the main event weekend; then battle it out around the felt to determine the overall winner.