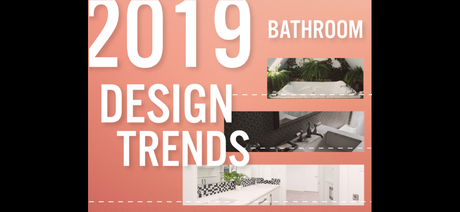 It's January of 2019 and you know what that means… a mad dash to declare the top trends of 2019 in any and all industries! Since we are bathroom vanity aficionados, we will be your expert guide to the top bathroom design trends of 2019. What gives us, at Trade Winds Imports, the right to tell you what the top bathroom trends of the year will be? A keen eye for design, extensive bathroom design knowledge, and confident writing.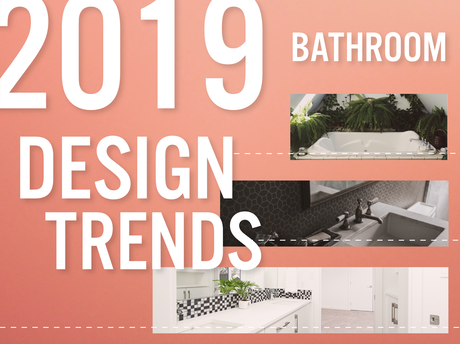 2019 Bathroom Design Trends
Our top priority right now is to help you understand what we believe to be the theme of 2019. Giving you quirky trend ideas isn't going to leave you satisfied with your bathroom if you choose to update for 2019. If you plan on making some changes, try to keep a consistent theme in mind rather than jumping on the "hottest new trend".
Make Your Bathroom Uniquely Yours
Hopefully, this is a theme that literally everyone can get behind, because who doesn't want to feel at home in their bathroom? As 2018 fades away, we believe that the monochromatic, aggressively sleek, and intensely modern bathrooms should also fall by the wayside. We still support minimalism in your bathroom, because clutter kills (not true, but it sounds nice). However, you don't want to feel like you're walking into a doctor's office every time you step into your bathroom. Sterile, bright white, nothing interesting anywhere, you get the picture. The big question is, how do you make your bathroom uniquely yours?
Statement Pieces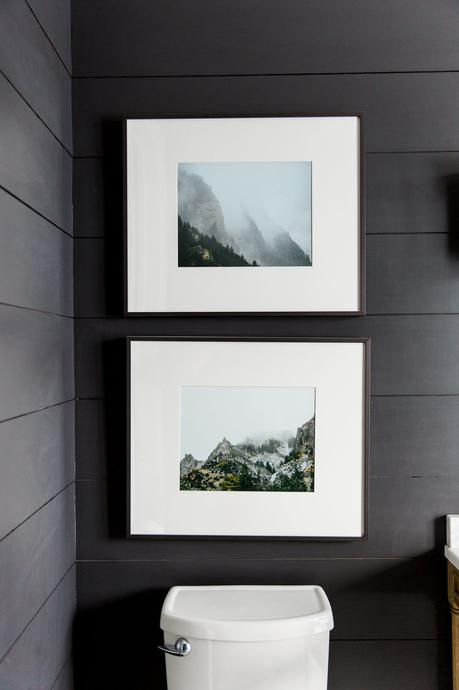 Source
Statement pieces in your bathroom are just what you need to spice up your life. We wholeheartedly believe that bathroom design trends in 2019 will center around various statement pieces. The best thing about this trend? Statement pieces can be almost anything. It doesn't need to be a thousand dollar piece of art or a hot pink wall. Anything that's eye-catching, fun, interesting, or simply ties the bathroom together is what you're aiming for. This can be homemade art, interesting fixtures and hardware, a cool pop of color, unique materials, fun tile, etc. The list goes on. To bring this whole thing together, we're going to supply you with some ideas and inspiration as a basic guide to the 2019 bathroom design trends.
"Black Is The New Gray"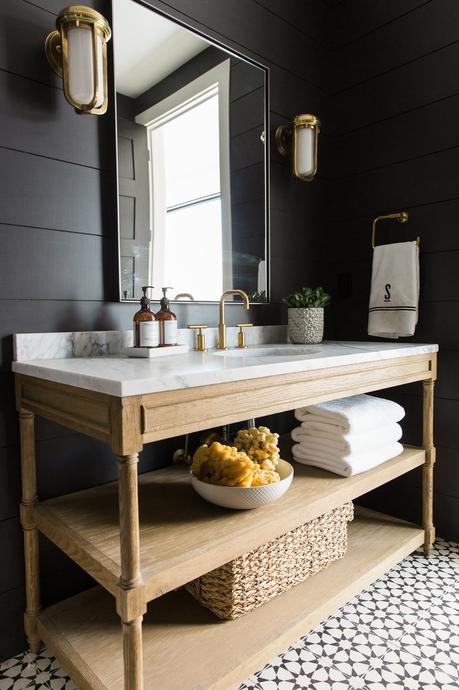 Source
Black is the new gray is a quote we pulled from Sebring Design and Build. Interestingly enough, black is starting to push gray out of the spotlight as homeowners start to realize that black statement pieces don't have to be dark and dreary. Like we mentioned before, you can utilize this color in a handful of different ways. The easiest way to incorporate black into your bathroom is to install black fixtures, faucets, or other bathroom hardware.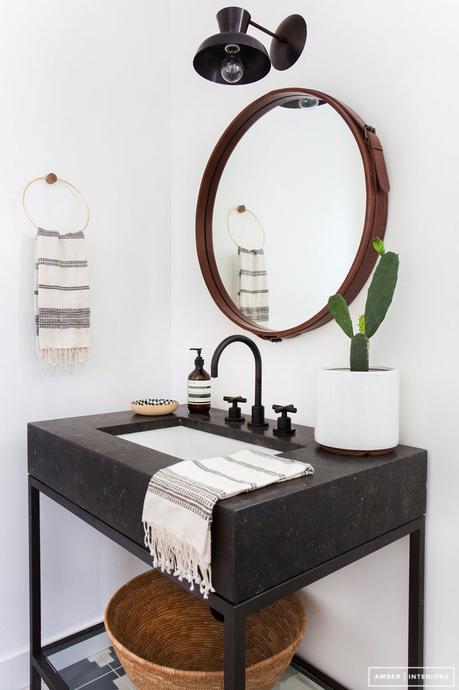 Matte black is a great way to make your bathroom stand out in a bold way. Additionally, black goes with almost everything, so this shouldn't be too big of a transition. Black vanities are more popular than ever because of their versatility in the bathroom. They look good in an ultra-modern setting, mid-century modern, and even work well in a traditional bathroom setting. It's worth taking a look to see if a black bathroom vanity could work for you. Not sold on black? It's OK, next year we will probably be back on gray again, or white. So whatever color you pick for your modern bathroom vanity, we are pretty confident it will be on-trend at some point in its long lifetime.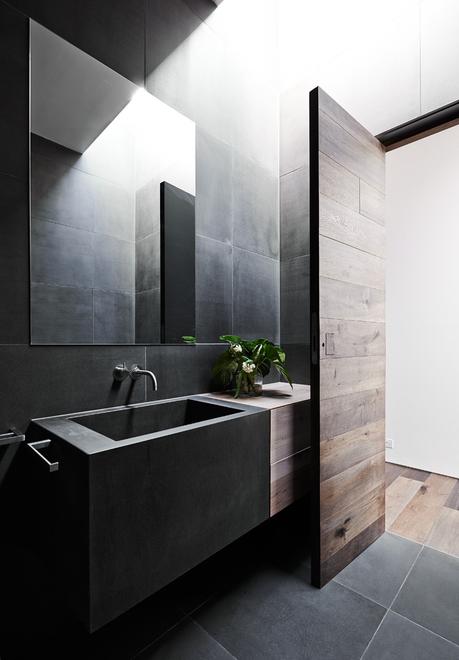 Source
Another easy way to incorporate the color black into your bathroom is through an accent wall or any bathroom accessories. If you like to browse bathroom design blogs or Pinterest, you've probably seen the leaning ladder shelves in a lot of bathrooms. These are usually an interesting wood, but there's no reason you can't switch things up and try a black metal ladder shelf. If you're feeling especially confident, you could paint a wall! If you feel like you've got the perfect wall and you like this idea, definitely go for it. Not only will it make a great statement piece, you'll differentiate yourself from the thousands of all white, boring bathrooms.
Color of the Year
To continue this trend of utilizing rich color palettes, we are predicting that the Pantone color of the year, Living Coral, is going to be a hit when it comes to bathrooms. Living Coral is a bright, fun, and happy color that thrives as secondary or accent color. Painting your entire bathroom would be an overkill, so maybe stray away from that. But similar to black, adding splashes of this color could really liven up your bathroom. This could come in the form of art, hand towels, various bathroom accessories, etc. The main point of following the trend of using a richer color palette is to try and push the average homeowner away from the same cookie cutter style that everyone feels the need to apply to their home. Neutral, muted colors are boring, and they don't say anything about you as an individual. Applying color to your bathroom gives you a way to stand out from the crowd and make your space feel like it is uniquely yours.
Sustainability
We believe that sustainability should be a trend that never goes away. Keeping an eye on your eco-footprint is a responsibility that shouldn't be ignored, especially in the bathroom. If you think about the amount of water you go through in the bathroom, you'll realize that your water consumption can start to get a little out of hand. Between showers, flushing the toilet, washing your hands, and brushing your teeth, that's a lot of water. However, there are a bunch of options when it comes to water conservation and sustainability when choosing bathroom products!
If you take a look at our bathtub buying guide, you'll find plenty of information about environmentally friendly bathtub options. Another great way to reduce your environmental impact is to check out toilets that use less water per flush. If you're in the market for a bathroom vanity, farmhouse style vanities are a great environmentally friendly option. Almost all are made from recycled wood from old barns and farmhouses. Not only do they offer an awesome aesthetic that fits in with 2019 trends, they are sustainably sourced!
Industrial Aesthetic
We've seen the industrial design aesthetic throughout other parts of the home and now it's creeping into bathroom design for 2019. We're particularly excited about this trend because there's so many interesting directions you can go. If you're wondering what the heck an "industrial aesthetic" entails, we'll clear that up for you now. The basis of industrial design in the bathroom centers around minimalism, natural materials, matte black, and pops of color. This definition falls right in line with the rest of our 2019 bathroom design trends.
Mentioned by Architecture and Design, concrete is an increasingly popular material to utilize in bathrooms. The nice thing about concrete is that you don't have to have a super trendy industrial bathroom for it to work. Concrete goes great with blues, whites, fun pops of color, and of course black. You'll see concrete utilized in floors, vanities, and even showers. There's something about concrete that really works with bathrooms. A natural material like wood is another crucial part of the industrial aesthetic. An added bonus? It looks great with concrete, matte black, and color! The juxtaposition of wood and concrete creates an interesting dynamic that brings together natural and industrial aspects of design that form a cohesive aesthetic.
The industrial bathroom aesthetic also supports interesting metals like brass and gold when it comes to bathroom hardware and fixtures. It's time to step away from the all chrome everything and make your bathroom a little more unique. Chrome is nice, but it can become a little boring and cold.
Geometric Tiles
Tiles in the bathroom are a classic bathroom design choice that we don't see going anywhere anytime soon. You're probably used to seeing your standard subway tiles/rectangular design choices. The 2019 bathroom tile trend is going to involve much more interesting and geometric tile design. As we've mentioned a few times, statement pieces are what's going to make your bathroom stand out from the crowd. Using tile in an interesting way is a great way to do this. You can create a cool backsplash design between your mirror and bathroom vanity, or add a pop of color in your shower, maybe an interesting design on the bathroom or shower floor, the possibilities are endless.
Standalone Tub and Walk In Showers
This is a trend that you'll likely only see in larger bathrooms because you need some serious space to really nail it. Standalone tubs are a high end and luxurious commodity that is starting to take off. Most of these tubs aren't going to be your standard ceramic and plain white because that simply isn't that interesting. Once again, these are going to act as a statement piece in your bathroom. You'll see more cast iron, copper, and stone resin standalone bathtubs. These also play into the industrial bathroom aesthetic. The standalone tub is a staple of the industrial look. The only downsides are that it takes up a lot of space, a little tough to design around, and not the most practical choice. However, if it's within your budget and you can make it work, it will really bring your 2019 bathroom to the next level.
The walk in shower is another up and coming design choice that we love. Open concepts for bathrooms have been on the rise and the walk in shower is a staple when it comes to this design aesthetic. When the walk in shower is paired with concrete get an amazing industrial bathroom vibe. Add in some matte black shower fixtures and you're cookin' with gas. This might be a little intense for some tastes, which is why there are plenty of walk in shower design options. Instead, you can go for glass walls paired with a fun and light geometric tile design.
Small Bathrooms
A lot of design blogs are raving about how 2019 is the year of big bathrooms and open concepts. Open concepts are great and a big bathroom is the dream…but let's be realistic. For a huge portion of the younger population, Millenials and Gen Z, a huge bathroom is pretty much out of the question. More people than ever are renting and purchasing a house seems like a stretch, at best. That's why we're going to focus on 2019 trends for smaller bathrooms. What do you put in small bathrooms? What's the best way to design and decorate? How do I maximize the space? All excellent questions that I've asked myself more than a few times. We'll do our best to answer those questions.
To start things off, how do you make a small space feel bigger? Our biggest recommendation is a floating vanity. A floating vanity is attached directly to the wall and doesn't have any base. The negative space underneath the vanity will make your bathroom feel much bigger than if you had a bulky cabinet under the sink. But the next question, how do you deal with storage? We've been seeing floating shelves in a lot of bathrooms as of late. The one drawback to floating shelves is that they don't fit a whole lot. This is where minimalism and clearing clutter comes in. If you can check yourself and only keep the bare minimum on your shelves you'll have less clutter, be less stressed, and your bathroom will look better.
If you're dealing with a bathroom that is too small for pieces of art, don't fret, there's a solution. Paintings might be too much for the small space, which is why you should consider wallpaper on one wall. I'll say it one last time, statement pieces! Wallpaper on one wall can be your artistic statement piece that works well without adding more clutter.
2019 Bathroom Design Trends Summary
Alright, if you didn't feel like reading through the whole article, I get it. It hurts, but fair enough. I'll keep it easy and give you a brief summary of the 2019 bathroom design trends. Statement pieces in the bathroom, no matter the size, will make your bathroom unique and interesting. For general design trends, matte black finishes on hardware and fixtures, an industrial aesthetic that utilizes natural materials, industrial finishes, metals, and pops of color. Working with small bathrooms is a necessary evil and sustainability is a trend that will never die.