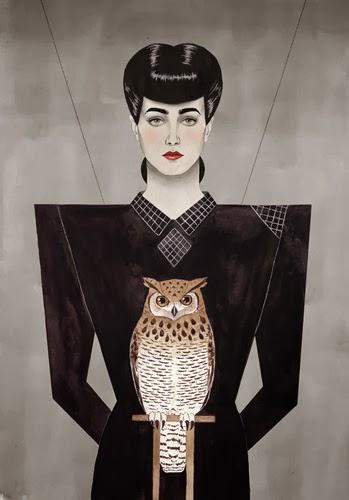 - "Do you like our owl?"
- "Is it artificial?"
- "Of course it is."
- "Must be expensive."
- "Very."
That is the opening to one of the most iconic scenes in history of cinema: the Voight-Kampff test scene in
Blade Runner
. It is a gorgeous part of the film, taking place in a sumptuous, dimly lit room at the Tyrell corporation; the amber light of the dusk bathes Rachael Rosen's hourglass figure, complemented by her signature forties hairstyle. Rachael's alluring look is all about her bold, dark eyebrows and red lips; her doll face framed by an exquisite trail of cigar smoke.
A golden glare glows in her dark eyes – a glare shared by the artificial owl that flew across the room moments ago.
If I had to pick one, I would probably choose Blade Runner as my favorite movie of all time. And Blade Runner features one of the most recurrent themes I have come across lately, as if it is somehow having a re-emergence: owls.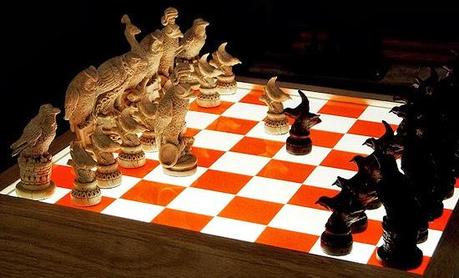 The sophisticatedly beautiful chess board featuring owls as rooks in Tyrell's bedroom.
What is it about owls that make them so fascinating?
If you have seen one from up-close, you surely know those elegantly patterned, silky soft and immaculately arranged feathers; the severe, mysterious stance with that astounding almost full rotation of their heads; also, their eyes and faces possess a certain serene gravitas, as if they were meditating and wisely aware of the miracle of their sheer existence. From
Twin Peaks
– where apparently
the owls are not what they seem
–, to Greek and Native American mythology, and even
Harry Potter
, owls tend to play pivotal roles as mysterious, hidden figures. Their eerie night calls were often regarded as ominous signs in many cultures, were the cry of the owl was believed to signal an imminent death.  Many artists – like
my favorite painter, Remedios Varo
– prominently depict owls as central characters in their art. In Varo's art, owls and owl-like creatures are a recurrent motive, which perfectly complements her magical, esoteric imagery.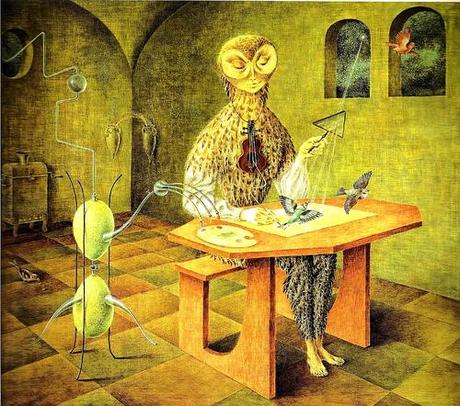 Creación de las aves (The creation of the birds), by Remedios Varo.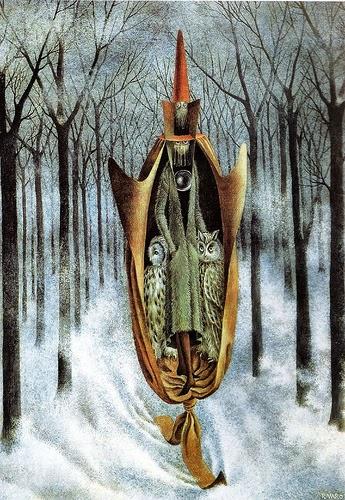 Esquiador (Skier), by Remedios Varo.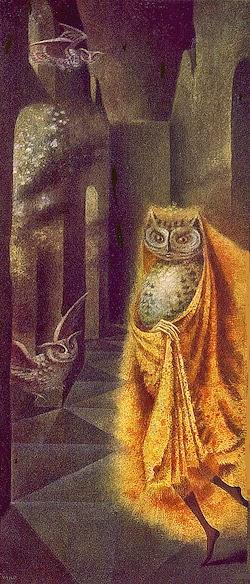 Night fighter, by Remedios Varo.
 However, it would seem like owls suddenly stepped out of their pedestal as symbols of the unseen, supernatural and mysterious, and landed in a colorful, almost cartoonish fashion, straight into the turmoil of pop culture and seasonal trends.
A brief shopping excursion to the mall and you'll notice that owls are everywhere,
from blingy jewelry stores for girls, going through clothing and apparel, to kitchen ware and home décor. Needless to say, if you are an owl-loving person, this is your chance to stock up on owl-themed items! Need some ideas? I have some suggestions:
A perfect cup of tea – or coffee – is the quintessential way to set the day for a great start; it is also a great opportunity to indulge in little details that make life fun and stylish: what about a tiny owl head playfully emerging from the bottom of your cup after every sip you take?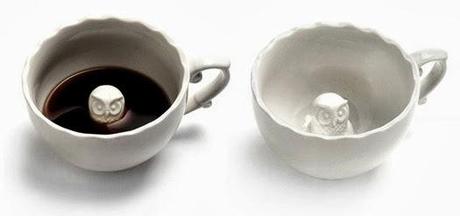 The Surprise Mug, some seriously cute addition to your tea or coffee time
 Since owls are also regarded as symbols of intelligence and wisdom, it only makes sense to have a charming owl-decorated bookmark to embellish your precious reads: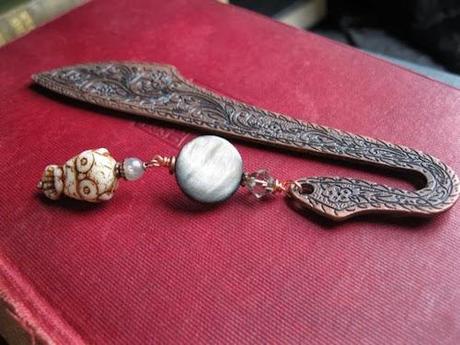 Owl Grimoire Bookmark, from one of my favorite stores, Feral Strumpet.
 In case you would like to display your unconditional love of owls through fashion, stores like
Black Milk Clothing
have you covered, with lots of interesting designs featuring these beautiful creatures in different styles: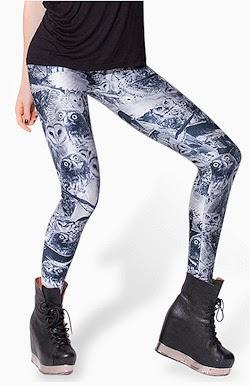 Owls black and White leggings by Black Milk Clothing.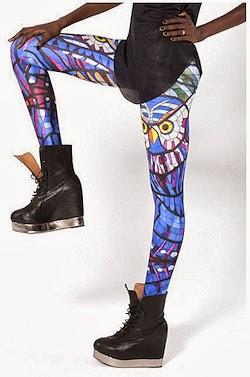 Glass owl leggings by Black Milk Clothing, inspired by a mexican painted glass window.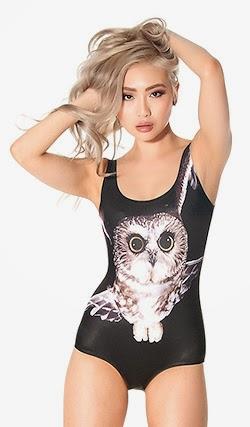 Owl swimsuit by Black Milk Clothing.
 Moreover, if you have one of those intense personalities that need to throw themselves completely into everything they do, some owl printed leggings might not be enough; you could try to fully morph into a proper owl instead, by wearing something attention grabbing and snug like this Spirit Hoods owl piece: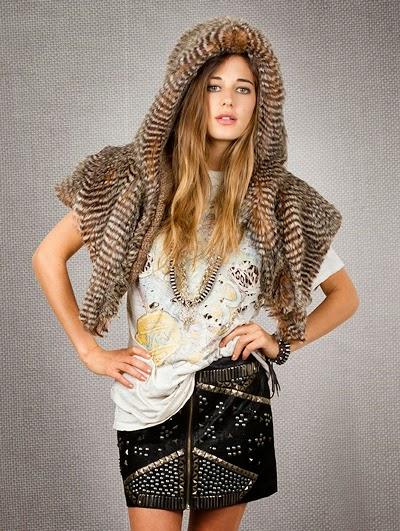 Extravagant but wonderfully cozy: owl hood by Spirit Hoods.
 For something more subtle, pendants and rings are a great choice to add just a hint into the supernatural. Personally, I feel more inclined towards the more realistic-looking representations of owls in jewelry; therefore I really love this owl silhouette necklace: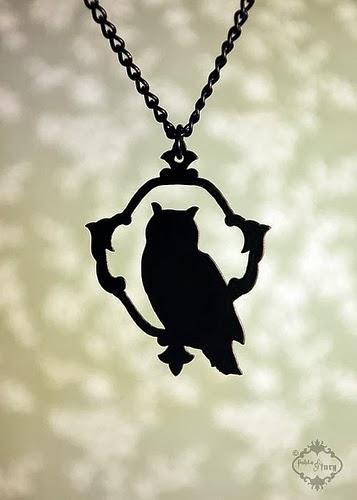 Owl silhouette pendant by Fable and Fury.
 I have one of my own, with a simple, more stylized design. Plus, one of my recent acquisitions: a golden owl ring.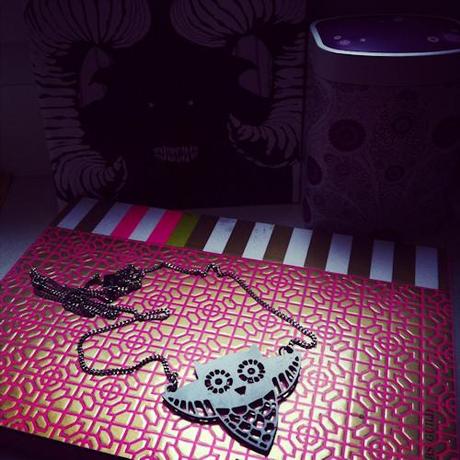 My owl necklace, perfect for complementing Twin Peaks-inspired outfits.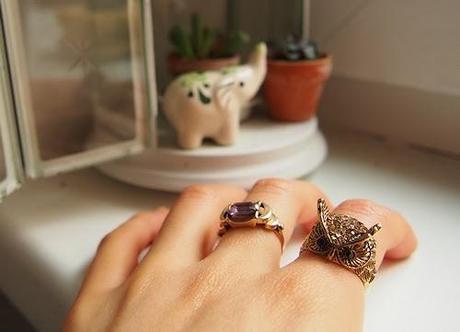 My new Golden owl ring; makes me think of Blade Runner.
How do you feel about owls? Do you think there is a trend and owls are now a popular thing to wear,
or do you think – just like Guitar Güero – that maybe the owls were there all the time, and I am just noticing them more now?
I do feel, however, that
they are the perfect emblem for the colder seasons, as well as a more refined, mature symbol of the night and its mystery. Owls for autumn!
Thank you for reading,