If you read this blog, you know that I'm a big fan of Troquet and even named them one of my top ten restaurants in Boston last year. I went back again recently for dinner, and tried the seven course Chef's Tasting Menu with wine pairings.
   We started with tuna tartare on a crisp cracker, topped with caviar and sesame. This was paired with a sparkling blanc de blanc. This was one of the specials for the evening, and I was excited it was included on the tasting menu!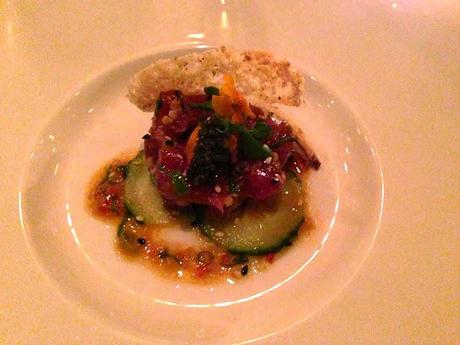 Next was sushi with unagi and fois gras. Paired with a reisling, which was just right with the rich eel sauce. I'm normally not crazy about unagi as it tends to be thin and dried out, but this was not like most I've had - it was thick, meaty, and tender.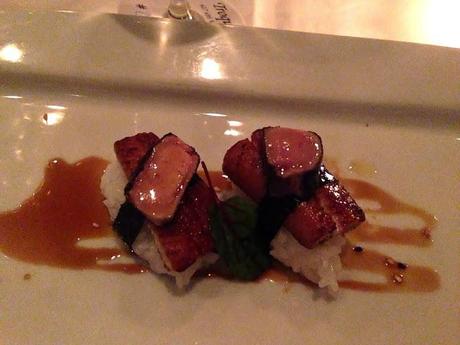 The third course was a crispy fried New Zealand langoustine served in a wrapper like a spring roll with mango, papaya, and a sweet sauce. This was paired with a Pinot Gris, which was a perfect complement.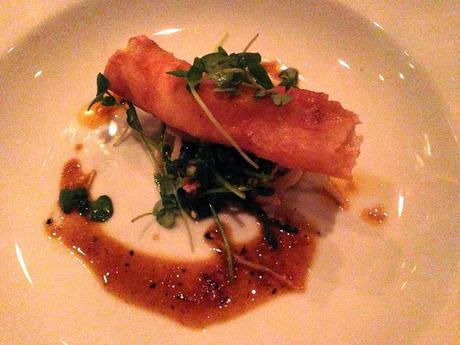 The fourth course was a rice-crusted Halibut with forbidden rice, lemongrass, red curry, and kaffir lime paired with Chablis. I'd never had forbidden rice before, this was more dense and had a bit of a nutty flavor. It was an interesting combination with the halibut and curry, and the flavors all worked well together.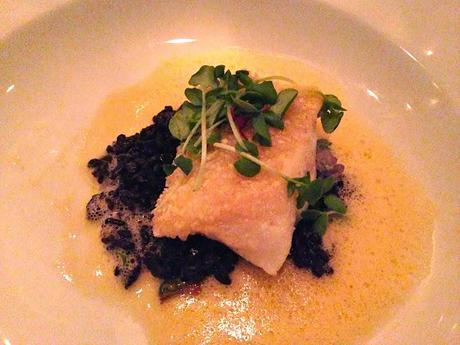 The next course was my favorite, braised lamb collar with white corn polenta angolotti, fava beans, and parmesan broth paired with a pinot noir. The lamb just melted in your mouth, and the polenta and parmesan added just the right amount of salt.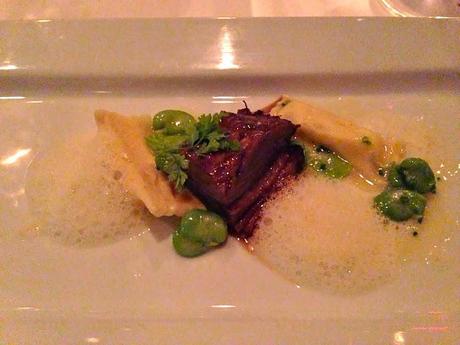 The final savory course was a duo of duck breast and crisp duck confit served with lentils, bok choy, and Santa Rosa plum and chili glaze. I enjoyed both preparations, but the confit was definitely my favorite!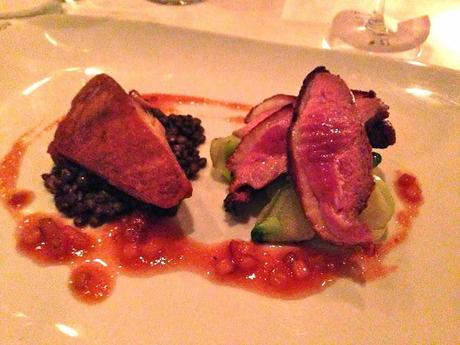 The cheese course was next, and for this course they bring the cart over to your table and let you choose. I honestly know a lot less about cheese than I should, so I'm not sure of the three kinds but I chose three hard cheeses, one with ash in the center and one very sharp like a cheddar. These came with an assortment of accompaniments including toasted raisin bread, nuts, and a fruit spread.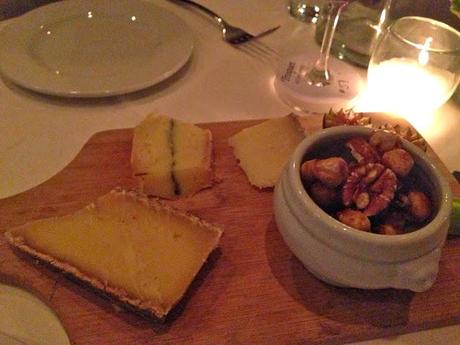 I was psyched that they let you choose your own dessert as part of the tasting menu, but rather than selecting a specific dessert I asked for "something chocolate." Chocolate is definitely what i got! The Chocolate soufflé with chocolate ice cream and creme anglais paired with sherry was the perfect way to end a fantastic meal.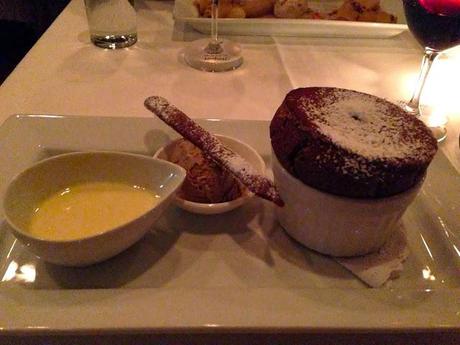 I truly enjoyed my meal at Troquet, and found the heavy Japanese influence paired with classic French cuisine (especially the first three courses) a nice touch.