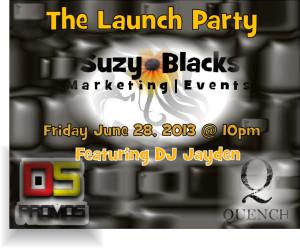 I have always had such a wonderful support system in my friends and family.  I don't know where I would be without you all!  Through this long journey of figuring out my career path and the decision to start my own business, the encouragement and kind words have been especially appreciated.
As Suzy Blacks begins, I look forward to the services I can provide for the local community.  Small business marketing solutions and local event management will be our primary focus to start.  Working with Quench has gotten us off to a fantastic start; and where better to host a Launch Party than the place that got it all started?!
Join us June 28th at 10pm at Quench in Rockville for tasty craft cocktails and drink specials, great music (courtesy of DJ Jayden), dancing, a fun atmosphere and the celebration of the establishment and continued success of Suzy Blacks Marketing and Events.  Promotional items will be provided as well, courtesy of Suzy Blacks and D5 Promos and my wonderful cousin Donnie Beukema. Be on the look out for a Facebook invite soon!
I couldn't do any of this without you all! So let's party!
Work Hard, Play Hard!