The fiery pianist talks about recitals, Mozart and his new disc Baroque Conversations.
by
Paul J. Pelkonen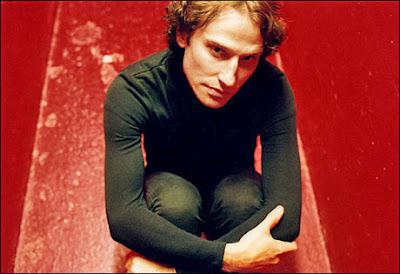 Firebrand: The pianist David Greilsammer. Photo © Sony Classical.
It's not every day that a pianist shakes up the very idea of the piano recital, the 150-year old institution established by Franz Liszt as a means of bringing music for that instrument before the general public. But David Greilsammer, the Israel-born soloist who made his Mostly Mozart debut on Tuesday night, does just that on his new Sony Classical disc
Baroque Conversations. 
"I do believe that in the 21st century, a recital program should have a greater purpose," he says in a telephone interview. "Historically, the recital program has come to a end. It is important to visit the great masterpieces in a new way--one that is not necessarily a new interpretation but bringing together music from different worlds. Having them say wha they have to say is magic--there is always conversation and dialog being created."
The dialogues on
Baroque Conversations
bring together some unlikely combinations. The arch elegance and perfect structure of Jean-Philippe Rameau rubs shoulders with the burly minimalism of Morton Feldman. Familiar baroque composers like Couperin and Handel flank
Whaam!"
a bold, jazzy creation by Matan Porat inspired by the pop art of Roy Lichtenstein. Yet the disc maintains a convincing narrative flow, 64 minutes of dialog that spans the centuries.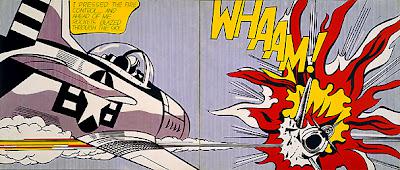 Whaam! by Roy Lichtenstein also appears as inlay card art on David Greilsammer's new CD.
Image from Wikimedia Commons, © 1963 The Estate of Roy Lichtenstein.
Mr. Greilsammer is interested in that juxtaposition. "It's about building bridges," he says. "The way one piece can influence the other--what new light can be shed on a piece when it's played near a piece that is supposedly 'far away' from it in its spirit, style or historical perspective. These two worlds, baroque and contemporary are the most radical worlds. It is not by accident that I wanted to have an entire project with only these two worlds when I play baroque and contemporary. It belongs to completely different planets."
"The process of putting this album together was quite long," he says. "For about one year I knew I was going to record this album." He explains that the long process involved "not just selecting the pieces but also living for a while with them and trying to go very deep into the heart of each one. Not just to learn them and understand them and be able to play them but be able to understand what kind of pieces these ideas can bring forward--that's the thing I'm interested in."
"A concept album must also be able to work in a live concert. I don't think it's viable or intelligent to bring forward any kind of concept if it does not work in a live setting. The
Mostly Mozart
recital is not exactly what we have on the recording. The big idea behind this program is that I'm trying to have different bridges between pieces and to have a different view on some things that are not the same as the CD."
Mr. Greilsammer is the music director of the Geneva Chamber Orchestra, and will perform a complete cycle of Mozart's piano concertos with that ensemble in the coming year. Yet he sees the ever-popular Mozart as a largely untapped resource.
"I always find it strange at the end of the day we always play the same pieces of Mozart. He's well known but his music is not often performed. Ifeel this mission to perform the different kind of pieces, not only the same big hits but to go even further, to present his (early) pieces in a light that will help them sink in."
For David Greilsammer, that same crusading spirit applies to work by contemporary composers. "There's nothing as enjoyable and meaningful as working with a living composer. Everything we fight for--this is where the secret comes from They know the secrets. They know where it comes from and where it's going to work."