The series sails forth with Wagner's high seas ghost story.
by
Paul J. Pelkonen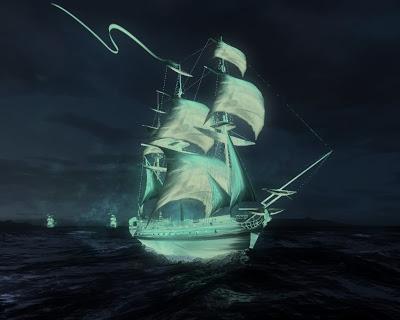 The legendary ghost ship The Flying Dutchman inspired Wagner's 1843 opera.
Digital image is © UbiSoft.
This is the first outing, the maiden voyage if you will of a new feature on Superconductor focusing on classic (and some modern) recordings of the great "canon" operas. We're going to start with a series on the ten major operas of Wagner and whether it will continue beyond that will depend on how many of you all click and read. Sounds good? OK. Let's go.)
Der Fliegende Holländer
is Richard Wagner's fourth opera, but the earliest of his works to be considered "canon" by the Bayreuth Festival, the German opera festival that was founded by the composer himself in an opera house of his own design in the tiny Franconian spa town of Bayreuth.
Holländer
(referred to hereafter by its English title
The Flying Dutchman
) was written in 1842 as the struggling Wagners lived in Paris and Richard tried (and failed) to get
Rienzi
staged at the Paris  Opera.
In 1839, Wagner, his first wife Minna and their giant Newfoundland dog Robber were forced to flee his conducting post in Riga (now in Latvia) aboard a tiny storm-tossed ship bound for London. The Wagners would up at a fjord on the Norwegian coast, thus inspiring the Nordic setting of the opera. (The truth is that Wagner was already working on the libretto for
Dutchman
back in Riga, and originally planned to set this spooky sea story off
the Scottish coast
!) Regardless,
Dutchman
is the story of a doomed sea captain (the title character) who is forced to sail the seas of the world until he is redeemed by a woman "faithful unto death." Senta, the daughter of a greedy Norwegian merchant seaman, proves to be that woman.
In addition to moving the action to Norway, Wagner revised the score of
Dutchman
twice, chopping its original one-act arc into three distinct acts and adding sweet-toned "redemption" music to soften the brutal (but much more effective) final chords. Some of these recordings choose the unrevised, minor key ending and others use the composer's revisions. There's really not that much difference and you're better off with the recordings that have the best singing and conducting.
Here are our five recordings revisited for this article:
Royal Opera House Orchestra and Chorus of Covent Garden cond. Antal Dorati
(1961, RCA/Decca, 1961)
This recording has been available for years and, like this opera's doomed protagonist, it remains consigned to budget price. That's a good thing for opera lovers. Features the haunted Dutchman of George London and the superb, fiery Senta of Leonie Rysanek. It is conducted by Antal Dorati who is better known for his Haydn but he does a fine job of capturing Wagner's early style.
Bayreuth Festival Orchestra and Chorus cond. Wolfgang Sawallisch
(1962, Philips/Decca)
A great performance from Franz Crass as the Dutchman is the highlight of this little gem of a set, recorded live in the unique acoustic of the theater that Wagner himself designed. Franz Crass sings the title role opposite Anja Silja, whose girlish presence (she was just 21) belies the dramatic power of her Ballad. This was the first of Sawallisch's Wagner recordings and it's a good one. Currently available as part of a Decca bargain box of Bayreuth recordings.
New Philharmonia Orchestra cond. Otto Klemperer
(EMI/WBC 1968)
This is worth hearing because it is the
only
studio recording of a Wagner opera made by the legendary Otto Klemperer, here three years from the end of his long career. He whips up a furious overture, has a strong Dutchman in Theo Adam and the return of Anja Silja's passionate, haunted Senta under studio conditions. The choral singing is top-flight as is Martti Talvela's Daland.
Berlin Philharmonic cond. Herbert von Karajan
(EMI/WBC, 1984)
A few years after his successful Berlin recording of
Parsifal
, Herbert von Karajan tackled
Dutchman
using almost the exact same cast and orchestra. The results here are mixed, with magnificent orchestral playing and middling singing. The overture, redolent of salt spray and supported by fierce plaing from the Berlin brass section is almost an opera in itself. The performances from José van Dam, Dunja Dunja Vejzovic, Kurt Moll and Peter Hofmann are anemic. For HVK devotees only--you know who you are.
Vienna Philharmonic cond. Christoph von Dohnányi
(Decca, 1991)
The third studio recording of
Dutchman
on Decca, this digital set is a fine example of why the Vienna Philharmonic is such a great Wagner orchestra. Christoph von Dohnányi summons a fearsome performance from his Dutchman, the under-rated bass-baritone Robert Hale. His very human characterization of the part is matched by Hildegard Behrens as Senta in one of her great studio performances. She knew how to use her voice with the microphone. Kurt Rydl is a gruff Daland.
Of these five recordings sampled (and re-sampled, the winner is the Dorati set, the oldest recording here and still the best
Der Fliegende Holländer
on record. This set is now 55 years old, and still sailing.
Made it this far? Here's your reward: a nice recording of George London singing 
"Die frist ist um" from Act I of Der Fliegende Holländer.