Brought to you by the Lord High Everything Else.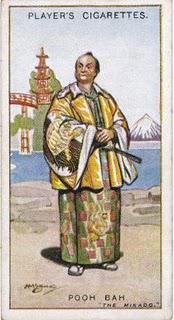 The Lord High Everything Else

Yes, we already published the annual Metropolitan Opera Preview.
It's in that box over there to the right, where we break down the coming season of high drama and music drama at the big limestone skyscraper-on-its-side on what used to be W. 64th St and Amsterdam Ave.
Here, we break down the rest of the coming opera season, from the New York City Opera on down to smaller (but beloved) regional companies in the outer boroughs. This schedule is not complete, and links go to the websites of the respective opera companies and venues.
Anyway, there's some really good stuff coming. Here we go!
September 2011:
The opera season gets off to an early start with a run of Francesco Cavalli's Giasone at Le Poisson Rouge in the first week of September. 
Les Arts Florissants revives their staging of Atys by Jean-Baptiste Lully, at the Brooklyn Academy of Music, starting Sept. 18. William Christie conducts.

October:
BAM starts the month off with a run of Kurt Weill's The Threepenny Opera. Also, Tosca opens the 30th anniversary season of the Dicapo Opera, a charming "jewel box" house on the Upper East Side.
The Amore Opera continues the tradition of chamber opera in the East Village with a "Fall Figaro Fest": Mozart's Le Nozze di Figaro, Rossini's Il Barbiere di Siviglia and the U.S. premiere of Mercadente's Il due Figaro, an unauthorized continuation of the adventures of the Almaviva clan, written in 1826.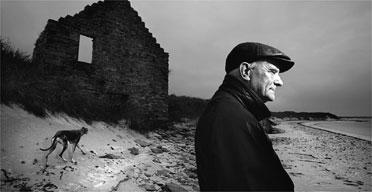 Peter Maxwell-Davies.
November:
Two exciting premieres this month: Juilliard launches their 2011 opera season with the U.S. premiere of Kommiltonen! by composer Peter Maxwell-Davies. 
This month also features world premiere of Nico Muhly's opera Dark Sisters by the Gotham Chamber Opera. The new work will run for 10 performances at the Gerald W. Lynch Theater at John Jay College for Criminal Justice. 
Angela Gheorghiu makes her one New York appearance of the season, as the Opera Orchestra of New York presents Adriana Lecouvrer at Carnegie Hall.
Chelsea Opera offers Menotti's The Medium, and Brooklyn's Regina Opera presents Madama Butterfly.

December:
The Dicapo Opera mounts Tchaikovsky's Iolanta. Besides, this is the time of year that everybody does Handel's Messiah. More on that later, and more December details as they develop
January 2012

Wagnerians are already excited at the OONY's plans to mount a concert version of Rienzi at Avery Fisher Hall. Eve Queler conducts. Nice to have Wagner without spinning planks.
Opera Lafayette, a period ensemble from Washington D.C. makes its annual visit with Le Roi et le Fermier by Pierre-Alexandre Monsigny. 
Another Menotti opera. This time, it's The Consul, presented by the Dicapo Opera.
The Bronx Opera presents a rare work by Ralph Vaughan Williams, The Poisoned Kiss.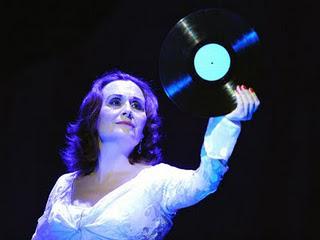 The death of vinyl: Janis Kelly in the Manchester premiere of Prima Donna.
Photo by Tristram Kenton.
February

Claiming "all of New York" as its stage, the revamped New York City Opera opens at...BAM. The company will offer a Jonathan Miller staging of La Traviata (from their old partners at Glimmerglass) and Rufus Wainwright's anticipated opera Prima Donna.
The Met and Juilliard present a co-production of Armide. Gluck's opera will be conducted by Jane Glover. This may be a tough ticket, as it is (probably) a sneak preview for an upcoming Met production.
Not Rigoletto: Charles Laughton (left) as Quasimodo
with Maureen O'Hara in The Hunchback of Notre-Dame.
© 1939 RKO Radio Pictures.
March
City Opera moves again, to the Lynch Theater for a new production of Mozart's Così fan tutte. On a happier note, Dicapo Opera presents The Most Happy Fella, and the Regina Opera offers Cavalleria Rusticana, paired with a short concert. 
Leon Botstein and the American Symphony Orchestra present Franz Schmidt's Notre-Dame, a rare setting of Victor Hugo's story of a love-struck hunchback. (Not Rigoletto. The other one.)
Finally, OONY offers a TBA opera with Placído Domingo. Betting books will open before the announcement is made. Well, not really.

April
As the Met's Ring creaks into high gear, Gotham Chamber Opera will present a rare Mozart work: Il Sogno di Scipione. 
Dicapo pits their Violetta against the Met's with their own production of La Traviata. (No Ikea furniture is involved.) 
Also, the Juilliard School mounts another staging of Don Giovanni. This one is by Stephen Wadsworth.
May
In their final migration of the season, New York City Opera presents Telemann's Orpheus at El Museo de Barrio on the Upper East Side.