The restaurant that charms people with its plush ambience and equally alluring food is dishing out new items that will surely give you more reasons to keep coming back. 
            The Suite Room continues to create a unique experience for you as you step into a cozy yet classy ambience that makes you forget the busyness and noise of the real world while enjoying heartwarming quality meals. I still can't forget my first dining experience in this restaurant that has left an imprint on my palate. You can read about it in the link below:Cebu Secret Chows: The Suite Room -- Cebu's Newest Boutique Restaurant by Casa Verde            This restaurant has become a favorite to many with their quality meals and service that satisfy one's perception of value for money. With that, I'll gladly share some of my old favorites as well as the new ones from their new additions on the menu.               Let's start off with the old favorites...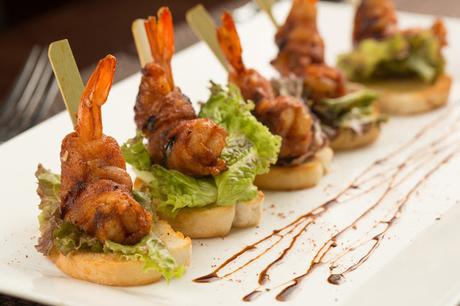 Skewered Shrimps in a Blanket  P158
               This is one of my favorite appetizers. Well, because I love shrimps and cajun-spiced anything. I also love how the crostini adds to the texture of this dish. And c'mon, anything wrapped with bacon is a winner. The Suite Room somehow consistently cooks their shrimps perfectly juicy and plump.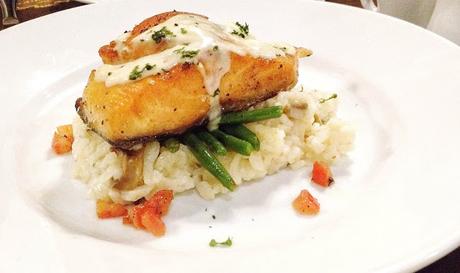 Pan-fried Salmon in Citrus Butter Sauce with Mushroom Risotto  P378
                   If I'm not having steak, this is the best bet from my old favorites. I just love the combination of salmon and risotto. If not for the citrus butter, this would probably be one of the healthiest entrees in the menu. The Suite Room is also one of the few places you can get a dish with risotto for a very reasonable price.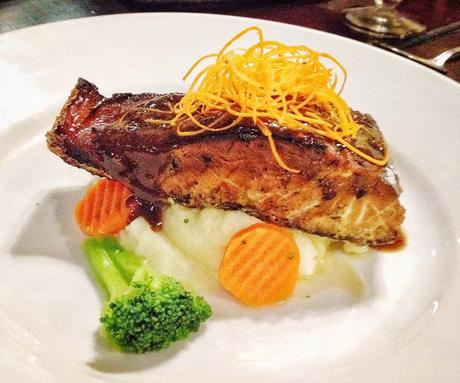 Grilled Salmon in Sweet Soy  P358
                  Okay, this is surely the healthiest entree in the menu. This just goes to show that you still have the choice to eat healthy when eating out. Make sure to have this with a side salad instead of mashed potato though. ;)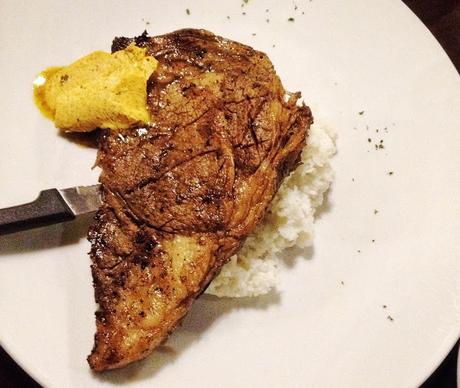 Ribeye Steak  P600
                  Yesss. Ribeye. Always a winner. For the steaks, you can choose from a number of sauces such as Cajun Butter, Pepper Cream Sauce and Mushroom Sauce. Of course, I have mine with Cajun Butter. Oh so good! If you're craving for steak but don't really have the budget for a splurge, this is the best place to go. 
                   And now, for the new guys on the menu...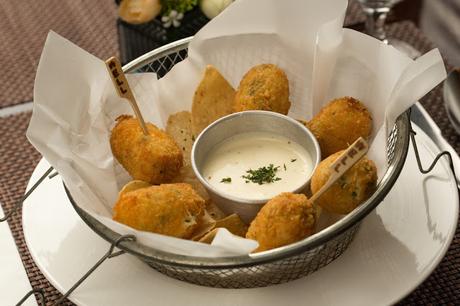 Chicken Croquettes  P188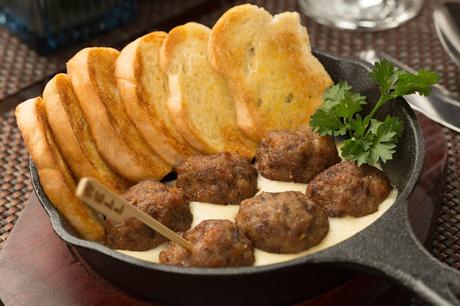 Swedish Style Meatballs  P208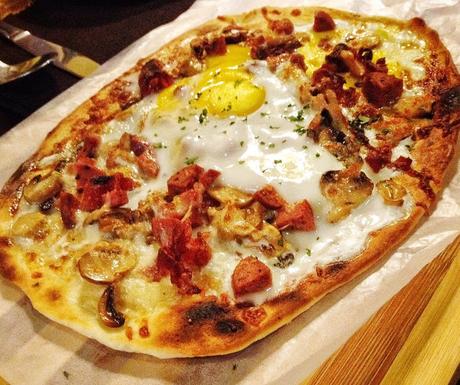 Flatbread Pizza  P208
              They've added a lot of really good new items. For appetizers, I particularly enjoyed the Swedish meatballs and Chicken Croquettes. 
              I'm not really fond of meatballs but I remember that The Suite Room had one of the meatballs that my taste buds seemed to agree with during my first visit. And I must say, they did it again with this Swedish version.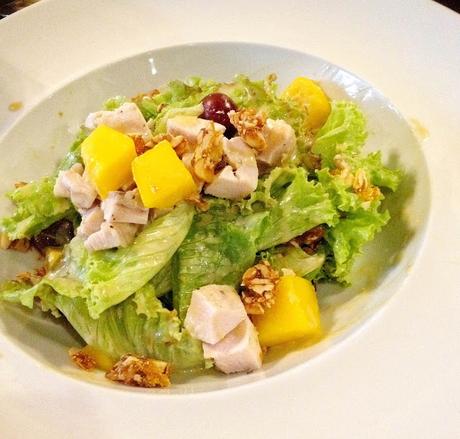 Summer Salad  P238
Mixed greens, mango, grapes, raisins, candied nuts, diced chicken tossed in a creamy garlic-parmesan dressing
                   If you prefer lighter starters or something fresh and light to pair with your heavy entree, a salad would be perfect. The Summer Salad is a delightful addition to their menu. This salad is actually balanced enough to serve as a meal in itself. Just ask for bread on the side to complete your meal. :)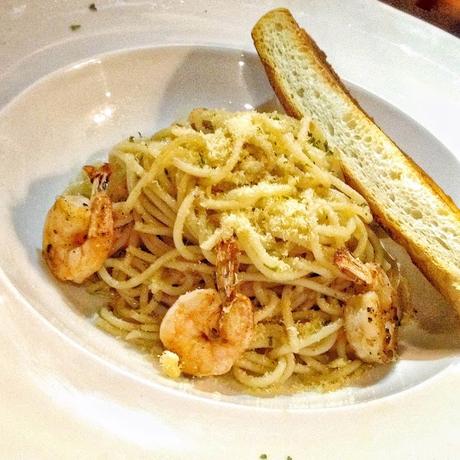 Shrimp Spaghetti Aglio Olio  P200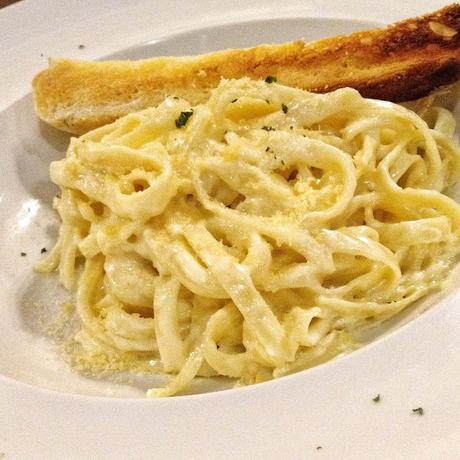 Truffle Cream Pasta  P178
I also enjoyed their pasta offerings, perfectly al dente and just the right amount of sauce. The Truffle Cream Pasta is a tasty treat!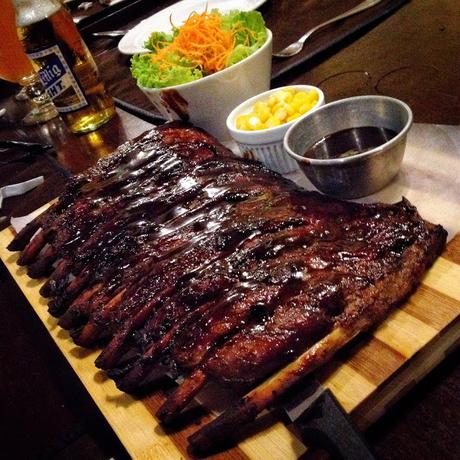 Baby Back Ribs  P588
                 Now, here's the new big league. A different take on their sister restaurant's  (Casa Verde) flagship dish, this rack is sure to satisfy your comfort food craving. Fall-off-the-bone, tender, smoky ribs flavored with an interesting blend of spices.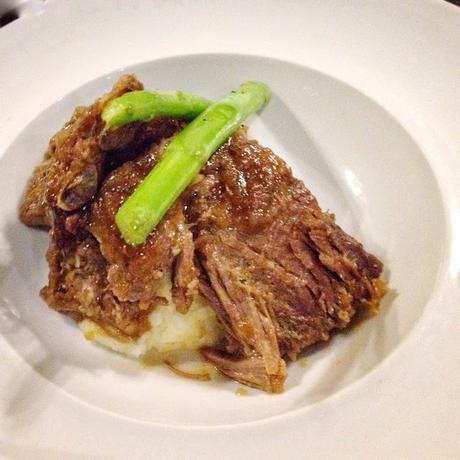 Adobo Pork Ribs  P298
              This photo doesn't give justice to this amazingly heartwarming dish. Obviously, it was one of those moments when I couldn't resist taking a bite before realizing I hadn't taken a photo yet. Oops! Piglet instincts. Hehe. This dish melts in your mouth because it's cooked low and slow for a whole day. 
                And of course, it's impossible to leave The Suite Room without having their huge ice cream cakes for dessert. My favorites are the Caramel Macchiato and Green Tea flavors.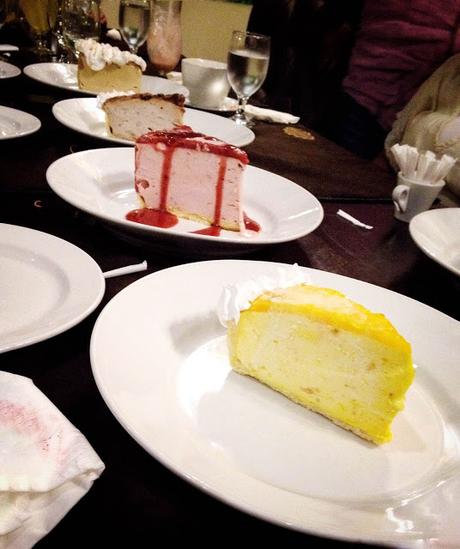 From front to back: Peach Mango Ice Cake, Double Strawberry Ice Cake, Apple Cinnamon Raisin Pie Ice Cake, Caramel Macchiato Ice Cake
             So, those were just some of the new items on The Suite Room's menu. There are more items I haven't mentioned that are sure to tickle your taste buds so why not give it a try sometime? Let me know which ones you like. :)
Mindful Eating Tips:
It's all about portion control. Most of the servings in The Suite Room are actually good for two. Share your calories! :)

Always remove visible fats to lessen unnecessary fat intake.

Choose dishes that are not deep-fried or smothered in butter sauce.

Salad is always a good idea but stay away from mayonnaise-based dressings.

When having juice, ask for the sugar syrup separately on the side so you can control just how sweet you want your drink.
The Suite Room
by Casa Verde
New Wing Roofdeck
Ayala Center Cebu
Archbishop Reyes Ave., Cebu City 6000
Contact:
(032) 266 3860
69 Lim Tian Teng St., 
Ramos, Cebu City 6000
Contact:
(032) 254 0508
Facebook: 

The Suite Room
Instagram: @thesuiteroom 
"To know Cebu, eat Cebu!"
oink oink,
Babe for Food