The sprawling coastal resort of Sochi – twinned with Espoo, Finland, and Cheltenham, Gloucestershire – hosts Russia's eagerly anticipated first-ever Winter Olympic Games, scheduled to launch with a 'big bash' Opening Ceremony at the cavernous 40,000-capacity Fisht Olympic Stadium on 7 February 2014. Sure to become an iconic memory for fortunate spectators, the Olympic Stadium with its translucent polycarbonate roof is designed to capture panoramic views of the Black Sea to the south and the Caucasus Mountains to the north.
Sochi's geography has delivered the most user-friendly set of venues in the long history of Winter Olympics. All indoor ice venues take place in the coastal Olympic Park – to be known as the Coastal Cluster – with outdoor snow and slider events located at the Mountain Cluster, high in the Western Caucasus Mountains which tower above Sochi, and close to the mountain village of Krasnaya Polyana. Coastal venues are all within easy walking distance, whilst hopping aboard the high-speed train linking the coastal and mountain sites takes just 40 minutes.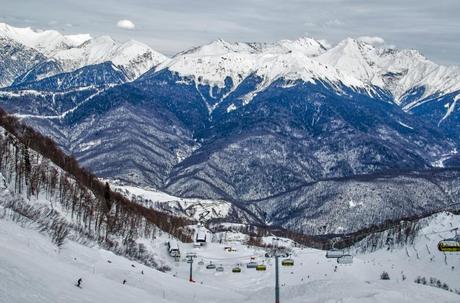 In Russia, Sochi is regarded as a place of good luck, which will be some small relief for the 2,500 competing athletes representing over 80 countries, who plan to give their all for 17 days in a quest for Olympic excellence. There will be 98 separate events, including 12 'newcomers' making their Olympic debut, with the new disciplines of snowboard parallel slalom, snowboard slopestyle, ski slopestyle and ski halfpipe likely to be the poster-boy competitions. In other groundbreaking 'firsts', Sochi will feature a female Olympic ski-jump, and mixed-gender teams competing in figure-skating, biathlon relay, and luge team-relay events.
The world's ice-hockey heavyweights will clash in the Bolshoi Ice Dome with Russia's men hoping home advantage will be enough to see off Canada, the defending champions. Also going for gold in the Hockey Final on Sunday 23 February will be Sweden, the 2013 World Champions, and a tough opportunistic US outfit.
Featuring an awesome summit-elevation of 2,320 metres, the Rhosa Khutor Alpine Centre will showcase the men's downhill, with the first gritty skiers tearing down the course's 1,075-metre vertical drop and heart-stopping 50-metre jumps on Sunday 9 February. For the men, Norway's Svindal, Austria's Hirscher and Ligety from the US are the likely to be at the front of the medal-queue, whilst Slovenia's Tina Maze, a storming talent, could scoop a fistful of women's titles.
At the Iceberg Skating Palace, Russian figure skaters will hope for success in a discipline where their country is traditionally strong. Russia's best hope will be in the pairs on Wednesday 12 February, whilst elsewhere, the Korean Republic's Yuna Kim will again be targeting Olympic gold.
Two to watch:
• Prince Hubertus von Hohenlohe – Mexican Alpine skier with 'cool racing suits.'
• Vanessa Mae (Vanakorn) – this world-famous violinist adds another string to her bow (as a Thai skier).
Sooner than we would wish, the athletes will be back on the bus after the Closing Ceremony on Sunday 23 February, leaving us to rewind Sochi's magical moments, and look forward to Pyeongchang, 2018 for our next winter-sports fix!