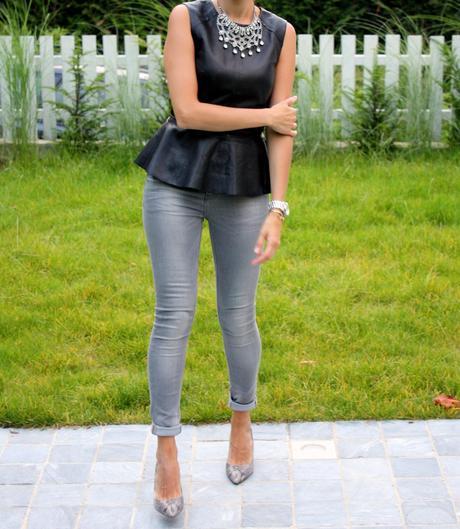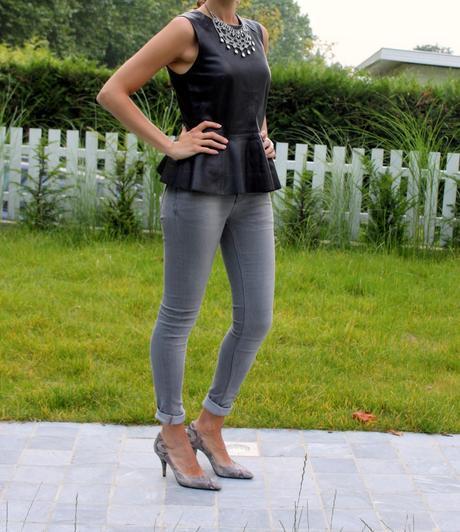 Necklace - Zara
Peplum leather top - H&M (similar
here
 and here)
Snake-print shoes - Michael Michael Kors
Jeans - Zara (old)
I have been looking for a pair of heels not too high to be able to wear to work for an entire day but high enough to make my legs longer and slimmer. Let me tell you, this isn't an easy task. When I saw these shoes on Net-a-Porter I thought that they would do the job and ordered them immediately. I was right because my size sold out in less than 24h. Well, it's a known fact that if a pair of shoes comes up on Net-a-Porter for 110 € they usually don't last long (unless if they are extremely... ugly). I think it's a psychological effect, most shoes on Net-a-Porter are over 300 €, so a pair for 110 € is a bargain and systematically sells fast. I have to say that I wasn't entirely convinced when I saw them online but took a chance because with free returns I wasn't risking big. I admit, they don't have the quality of designer shoes, but obviously I didn't pay the price either. They are however quite comfortable, look good,  and come with the same Net-a-Porter black box as anything else you order from them, so they feel as special (ok, I'm a good marketing prey, I know). Verdict: I found what I was looking for !
Here I'm wearing the shoes to go out, with my leather peplum, which I'm sensing to be the biggest hit this fall, basic gray jeans and the super bling statement necklace from Zara. Wearing this necklace makes me feel like Marylin Monroe in
Diamonds are a girl's best friend
and who doesn't want to feel like that ? I know I want. I remember this video clip from when I was a little girl and if I knew that it only took me some fake bling jewelry to feel like that I would have invested in a princess set for little girls with jewelry and tiaras a long time ago !
How about you, any big necklaces in your wardrobe ?
xx Marta
ps: we're leaving tomorrow to Austria for another 2 weeks of holidays, and for the first time I have planned some scheduled blog posts so I won't feel like abandoning the blog. I really hope you like them !