Smurf Village's most scandalous family is out of control again!
Last night, a TMZ staffer caught Vanity Smurf leaving Rolling Hills Aesthetics Center, for what is rumored to be his ninth plastic surgery! Move over, MJ!
And during a recent stop in the Netherlands on Jokey's European tour, he was booed off the stage after he insulted, then mooned the crowd! A crowd member recalls: "He, um, he just pulled down his pants, bent over, and said, 'You ever hear of 'Once in a Blue Moon'? Well, here it is! Feast your eyes on this, suckahs!'"  His fondness for Smurfberry wine is assumed to be the culprit. When we tweeted him, this was his response: "What problem? I don't havvvvvvva problem! You have a problem, TLC! Now, stay offa my lawn!" Hey, Lindsay Lohan! Any room in your rehab?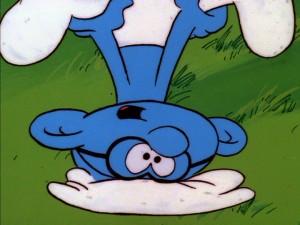 Image Credit: dvdizzy.com
And, only on TMZ:
Looks like Brainy Smurf's been kicked out of the village again! We snapped this EXCLUSIVE SHOT of him right after he was hurled over a holly bush! We would have asked him for comment, but he was UNCONSCIOUS! Oh, Brainy. Nobody likes a know-it-all.
Family mogul Papa Smurf released a statement today that Smurf Village is, in fact, not a cult, and smurfs are free to come and go as they please. When asked for further comment about Harmony's mysterious disappearance, he turned Harvey into a chicken.
And, it would be an understatement to say Smurfette's been around the block. This most-wanted blue bombshell has been linked to Lazy, Grouchy, Clumsy, Sloppy, and Greedy. She sure knows how to pick 'em!  Did someone say 'daddy issues'? But it looks like she's got her sights set on Handy, now. A viewer texted us this pic of them smooching at the Pinot Bistro on Los Angeles Tuesday night.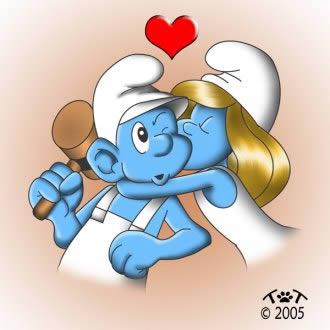 Image Credit: bluebuddies.com
We caught up with her in the parking lot to get the scoop.
"Smurfette! Smurfette! Are you and Handy an item now? Is Greedy jealous that you've moved on so quickly?"
"Go smurf yourself, TMZ!" she yelled as she blew past us in her convertible Mercedes while giving us the finger.
We hope Handy has the, uh, tools you're looking for.
When we come back, we measure Kim Kardashian's pregnant ass with a yardstick! Don't miss it!