For every position or role on the field there are a given set of expectations for a player, should he want to be successful.  The nature of the lead-off spot in the order demands that a player be good at getting on base.  A third or fourth hitter should have a greater ability to drive in runs.  A shortstop should have enough arm strength to make a throw from the hole.  A pitcher has to be able to throw multiple pitches for strikes.  All these expectations have to be met if the player in that role wants to be successful.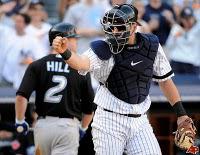 (AP Photo/Bill Kostroun)
Leadership in catchers come in
different forms.  From the outgoing
Francisco Cervelli  ...
But what about things like leadership?  Do you have to be a good leader to be a successful second baseman?  How about a left fielder?  It would be a nice addition to players in those roles but I would argue that it's not a necessity.  
That's not the case for catchers.
The very nature of being a catcher demands that they be a leader on the field.  A player who catches cannot look at the leadership expectations as optional.  It is part of the job just like it's part of the job description of a lead-off hitter to get on base.  When you catch, the whole field is in front of you.  You see everything.  You are also closest to the coaching staff in the dugout so you become the link between the coaches and the players in front of you.  Whether he likes it or not, a catcher is a leader and needs to act like one.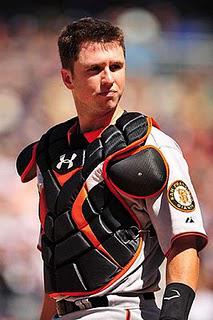 ... to the more quiet,
confident Buster Posey.
(Photo by Robert Beck/SI)
Many young players connect being a leader with being an in-your-face, rah-rah type of kid.  Although that tends to be the leader that is most easily noticed, there are other styles of leadership.  There have been many successful catchers who were soft-spoken and wouldn't come across as being an outgoing, stereotypical leader-type individual.  However, when they put their uniform on, they became a leader in one form or another.  Some bark out reminders constantly during the game and let their pitchers know they are not pleased with their performance either verbally or through body language.  Others have the calm, cool, confidence of someone who knows they are in charge but doesn't need to prove it all the time.  Their style is better in a one-on-one setting.  The common denominator in both personality types is leadership in some form.
If you are a catcher and want to be good, embrace your leadership role and match the leadership style that works with your natural personality.  Do not try to be something you are not.  Then start speaking up in your own way.
No coach wants a silent catcher.