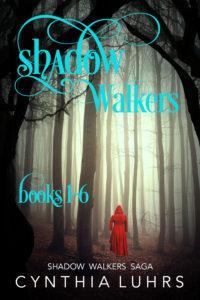 Forbidden love. Fate. Immortal warriors cursed to walk in shadow.
In the Shadow Walker series, Cynthia Luhrs creates a sensuous and ghostly world, ripped apart by the struggle between Shadow Walkers and Day Walkers. Now in a convenient eBook bundle, here is the entire thrillingly sexy series:
Lost in Shadow
Desired by Shadow
Iced in Shadow
Reborn in Shadow
Born in Shadow
Embraced by Shadow
Book 1: Lost in Shadow - Reeling from a bad break-up, Emily takes off for a long dreamt of vacation to Scotland.
She's going to forget her past no matter what. Or so she thinks. But fate has other plans... A sexy highlander no one else can see, crosses her path, pulling Emily into a world of shadow and turning her life upside down.
Book 2 - Desired by Shadow
Could her day get any worse? Kidnapped on the way home from work, Maggie is thrown into a terrifying world of shadow. Narrowly escaping death, she flees and lands at the feet of a stranger. Too bad her soul mate is her greatest fear come to life, the dreaded pirate Black Bart...an immortal Shadow Walker.
Book 3 - Iced in Shadow
It's almost Christmas which should be a time for celebration. Instead, a mysterious layer of ice covers the walls of Ravensmore castle. Rumors of an angry spirit out to destroy those who reside in the castle are whispered in the halls. And if that weren't enough, Colin will come face to face with his murderer.
Book 4 - Reborn in Shadow
A GHOST GRANTED A SECOND CHANCE...
Hamish Campbell committed so many sins he'd lost track of them all. The worst? Murdering his brother in a fit of rage. Granted another chance by the god of Shadow, Lord Campbell joins the Shadow Walker brotherhood.
Book 5 - Born in Shadow - This novella is a prequel to the series. It tells the legend of how the Shadow Walkers came to be.
Book 6 - Embraced by Shadow is the sixth and final book in the Shadow Walkers series. The book picks up after Reborn in Shadow and is all about Monroe. Not to mention, the final showdown between Thorne and Dayne.
A WORLD WEARY EX-COP MAKES A DESPERATE CHOICE...
Monroe MacDonald envied the Shadow Walkers and their power ever since he found out about this world within a world. Desperate to join the brotherhood, he makes a choice that carries deadly consequences and finds himself in a battle for his very soul.
WHILE THE WOMAN HE NEEDS FINDS OUT HER ENTIRE LIFE IS A LIE...
Amy Weaver is tired of waiting for Monroe to get his act together. Fed up, she escapes to Ravensmore where events set in motion reveal her entire life has been a lie.
AND THE WORLD TEETERS ON THE BRINK OF UTTER CHAOS...
While Monroe battles for his soul and Amy comes into her powers, The war between Shadow Walkers and Day Walkers has come to a crescendo, the brotherhood is staggering under the weight of loss...and the potential destruction of not only the entire Shadow Walker brotherhood but the world as we know it is at stake. It's brother against brother as Thorne and Dayne face each other to decide who will rule over all the realms.
I hope you all will enjoy this thrilling conclusion to the Shadow Walker world. If you enjoy persnickety gods, supernatural creatures and ghosts with the ability to manifest physical bodies, then The Shadow Walkers Ghost Novels are for you.