The September Issue

From Vogue - Elle
If you have any interest in the fashion industry, then you'll know that the annual September issue of any fashion magazine is the biggest and most exciting of them all. Even if you don't want to work in the industry, you may still have seen The September Issue documentary/movie featuring Anna Wintour and Vogue US: you'll know the amount of effort, stress, sweat, blood and tears that go into this particular issue, so as you can imagine, those of us interested in the industry anticipate the September issue cover star like it's nobody's business.
I have my annual subscription for Vogue UK, so when my issue slipped through the letterbox this morning, I immediately ran to it with more excitement than I have on Christmas morning. I already knew who the cover star was thanks to the wonderful platform that is Twitter. Whilst flicking through the pages, I had the idea to put together a little post to feature each cover star from various other fashion magazines to see who

your

 particular favorite is.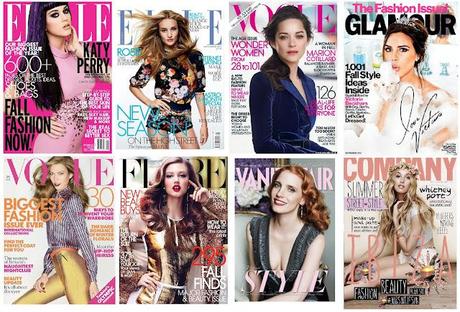 Starting top left and moving right: ELLE US - Katy Perry. If you read my earlier post with her September issue cover, you will know how just excited I was when I was told she would be covering the issue. She looks amazing, although it would have been nicer to see her in some sort of punky ensemble for the cover.
Next to Katy is ELLE UK. Covering our version of Elle you have Rosie Huntington Whitely. I just can't stop staring at her legs. They don't call her an Angel for nothing! Next to Rosie we have Marion Cotillard covering Vogue US. I have to say, it's a little lack luster

 compared to Vogue UK, whom I shall mention in a little bit. Marion looks lovely in blue velvet, but it doesn't exactly entice me to read the editorial. 

Up next to Marion is the one and only Victoria B covering Glamour US. Even in the bath she wears her crown. Well, I would too if I were her. In the editorial she tells us why she never smiles in her photos. It's actually one editorial that I'm looking forward to getting my hands on. I quite like how she's sitting in a bath tub covered in bubbles: it's interesting and totally different to how we normally see Queen B in the media! Ok, onto the bottom row now. First up is Vogue UK with the wonderful Karlie Kloss. I can't get over how successful, beautiful and just darn amazing this lady is and she's only just turned 20. I'm older than her at 21, so I feel a little ashamed of myself when I look at her photos. I love her outfit and just think the cover as a whole is aesthetically pleasing.
Next to Karlie is Lindsey Wixson covering Flare.

 I'm sorry, but models with gaps in their teeth, big enough to sail a boat through, just don't appeal to me. Whilst looking fab in Prabal Gurung, the tooth gap is a point deduction in my view.

Next we have Jessica Chastain for Vanity Fair: Now, this lady is one to watch this month in Vanity Fair - she strips down topless for the cover shoot and shows her true fiery nature. I like the cover and all, but I just think if I had the option between Vanity Fair and Elle, I'd go with Elle.
Last but not least - Whitney Port for Company

. Oh my. Ever since I started watching her in The Hills and The City, I just fell in love with her charm, accent and fashion sense, so seeing her on the cover makes me smile. Her cover shoot shows off her boho style perfectly with long, wavy hair and flower headpiece. She just looks fab in my opinion.

Which is your favorite September 2012 cover?