About 90 years ago, women started cutting their long locks into bobs, and later on even as short as men's hair. Today, women with short hair don't need to hide, at least not in the western society. But long hair is still an important part of femininity and perhaps also female sex-appeal. The largest part of girls and women could never imagine ordering a short cut at the hair dresser. Sometimes, when many female celebrities, or one important one, cut their hair, it's "in" again, but not many actresses or singers have the guts to do so. One aspect is that it doesn't suit everyone, another one is that a lot of elderly women have short hair, and a lot of small children have short hair - and who wants to look like either a grandma, a baby or just plain ugly?
Two weeks ago, I decided to cut my hair. I went to the hair dresser with my sister - it was a very impulsive decision, but I haven't regretted it yet. Apart from one, my friends and acquaintances have all kept kind words and compliments at hand for my new hair cut.
While I'm waiting for the ACEBA results to be published, so I can finish my award comment, I decided to put together a list of female actresses that rocked the silver screen, the red carpet and their living rooms with androgyne hair...
Audrey Hepburn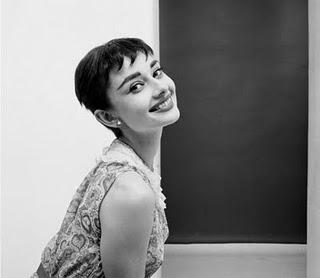 One of the first women I thought of when starting to write this, was Audrey Hepburn. She's one of those starlets from which I've never seen a complete film (why? - not enough time?), but nevertheless admire. Everyone can see she's a beauty, maybe even more beautiful with short hair than long. But despite that, I've read that she had issues with her looks, and wasn't fully confident with herself. I hope that's not true - it would be very sad.
Emma Watson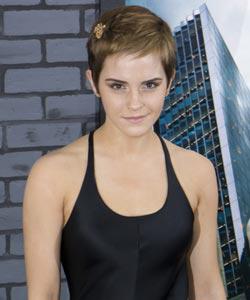 From one of the classic icons to a very young actress, who just recently decided to get rid of "it". Emma was probably the first actress I ever looked up to, the first real role model of my life. Funnily, I always wanted hair like hers - and indeed, mine was quite similar, though maybe a little thicker. Now, don't think I cut my hair because she did. She was an inspiration, yes, but I loved her long locks as much as my own... In any case, we're both short haired now. Emma said cutting her hair made her feel sexier. I don't know about that.
Keira Knightley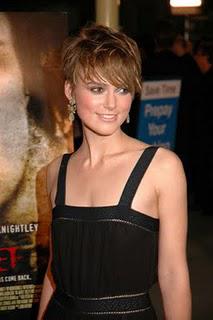 Before she had her big break with Pirates of the Caribbean, Keira, one of my favorite actresses (I know, she has many haters), starred in the rather unsuccessful The Jacket, a film for which her hair was trimmed considerably short. My hair cut, it so happened, actually looks a lot like hers (we also both have an oval-shaped face), and I plan on letting it grow for the next 12 months, just like she did.(Boys, if you're reading this you might be quite bored, so I don't mind if you quit reading at this point).
Natalie Portman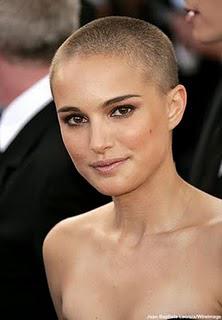 Natalie didn't just trim it a little, no, she is one of the few not stupid but brave women who have shaved it (an example for a stupid one: Britney Spears). I am astonished by how beautiful she looks, even without any hair. V for Vendetta is another one of those films I really, really want to watch, and wonder why I never do so.
Bipasha Basu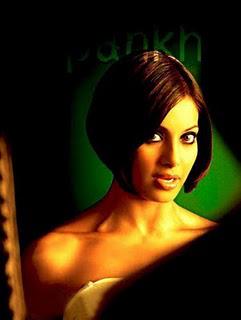 As one of the few Indian actresses, Bipasha decided to cut her hair shorter than shoulder-lenghth (oh - my - gosh). I wonder why we almost never see an Indian heroine with short hair - is Bollywood still that un-modern? And the longer we go south, the longer is the hair, generally (talking of Telugu and Tamil films). I think it's a great step from Bipasha to dare facing the scissors - not to mention the bob looks amazing on her. Lara Dutta also wore a bob for a while, just like Urmila Matondkar.
Preity Zinta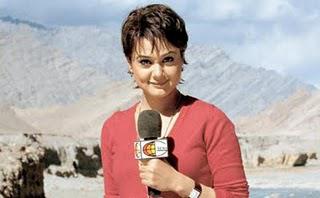 Now that I'm already talking about Bollywood... Okay, it was an awful cut/ wig Preity, my favorite Indian actress, wore in the second (or was it the first?) half of Lakshya. Nevertheless, it was short, and that's why I had to mention it. On the other hand, it might have scared other film makers and actresses away from short hair.
Camilla Belle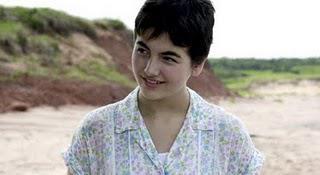 The Ballad of Jack and Rose is a very disturbing, yet wonderful film starring Camilla Belle. In the film, she cuts her hair all by herself, and the result is quite realistic (Anjaana Anjaani, we're all looking at you!) - not too pretty, at least. But sympathetic. I don't know if Camilla actually cut her hair, or if she wore a wig.
Cate Blanchett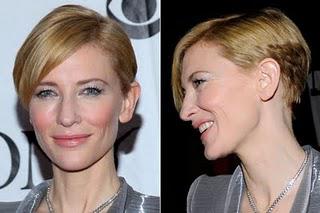 Cate Blanchett is so damn cool.I can't forget my grandma partied with her in Vegas, when she was still an unknown theater actress. Short hair suits her just as well as the floor-lenghth waves in Lord of the Rings.
Shabana Azmi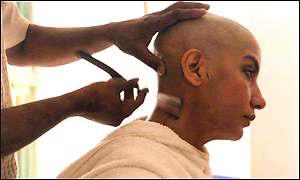 One of Bollywoods last elderly divas went bald for the film Water - and yes, that wasn't a fake.She didn't look just as magical as Natalie Portman, but still kudos to her for having the guts to shave it. For real. 
Other (honorable) mentions:Mandira Bedi, a B-movie actress, I think, cut off her hair some time... It didn't look mind-blowing, though.Charlize Theron isn't one of my favorite actresses, but she did look fabulous with the pixie.
-----------------------------------
I don't want to have too many pictures of myself on this blog, but in this case, I guess the whole post has awakened your curiosity, and since the celebs stood by their short hair, I will do the same - so here I am, proudly presenting my new hair cut.(That's my dog, Molly, in my arms - in case you wondered).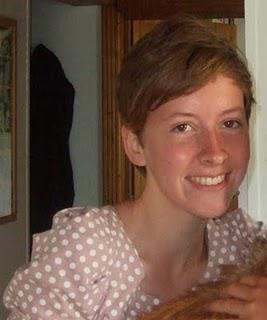 And PS: I changed the blog name from "Bollywood-addict" to "Film Addict". The header was also modified a bit, just like the side bar. I hope you like it (is the header too boring now?).-----------------------
Thank you for reading,Mette M. K.