What a missing CD cover taught me about Bach.
by
Paul Pelkonen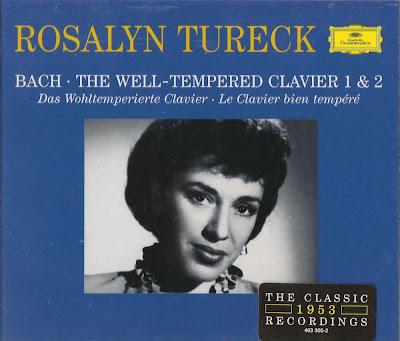 The missing Rosalyn Tureck album cover. I still don't have it!
Today is the 322nd birthday of Johann Sebastian Bach. To celebrate, it's time to take a look at some of the recordings of Rosalyn Tureck.
Born in Chicago in 1914, Dr. Tureck was a pianist who devoted extraordinary keyboard gifts to the interpretation of Bach. Her recordings of the
Goldberg Variations,
Keyboard Partitas
and the two books of
The Well-Tempered Clavier
are touchstones, revered by collectors and by pianists like Glenn Gould. She died in New York at the age of 88.
I first encountered Ms. Tureck's playing in 1999, when Deutsche Grammophon sent me the 4-disc set of her recordings of the complete
Well-Tempered Clavier
. I well remember putting the first disc into the drive of my office tower computer, putting on the big noise-blocking headphones...and hating it.
The familiar
C Major Prelude
of
Book I
was taken at a maddening, slow pace, the notes seeming to sleep-walk out of the speakers in hissy mono sound. The whole piece was a minute slower than other recordings, like Chinese water torture.
I kept listening. Some of the later Preludes and Fugues were still slow to me. My inner Bach metronome was used to the "Gould" approach to tempo. I didn't really appreciate the beauty of her approach to this music. After writing a mumbling, middling review for the website I was working for, I put the recordings aside, going back to Glenn Gould and Andràs Schiff, another pianist who remains a favorite today.
Later, I wanted to get rid of that set, to send it out into the world of used CDs where music journalists often trade in their acquisitions for a bit of ready cash. But I didn't, mostly because the producer at that website had lost the front-cover label insert, making the set worthless to a dealer.
Reluctantly, I kept it. The set sat on my shelf for years, wedged between the big Sony Glenn Gould "Original Jackets" box and Mr. Schiff's orange box of Bach for Decca. It stayed silent in its case for over a decade. When I did "Project Upload" (moving many recordings of mine into hard drives and iPods) it was left out.
With the Bach birthday this week, I took out that Tureck boxed set, as well as recordings of the Partitas and Goldberg Variations that I'd acquired as part of the
Great Pianists of the 20th Century
series.
I uploaded all eight discs of Ms. Tureck's recordings that I had. I transferred them into my iPhone. Now, her approach to these short pieces not only felt right, but were extraordinary in their beauty. The piano works seemed thoughtful, beautifully paced and carefully measured. Ms. Tureck's playing hadn't changed.
I had grown up.