A big warm welcome for today's guest blogger, the wonderfully talented artist and writer Patricia Saxton, of Saxton Studios on Facebook.  Patricia is gifted in many areas including blogging… you can find her at her own blog http://saxtonstudio.wordpress.com.  Without further ado… Patricia Saxton:
"Everything you can imagine is real."
― Pablo Picasso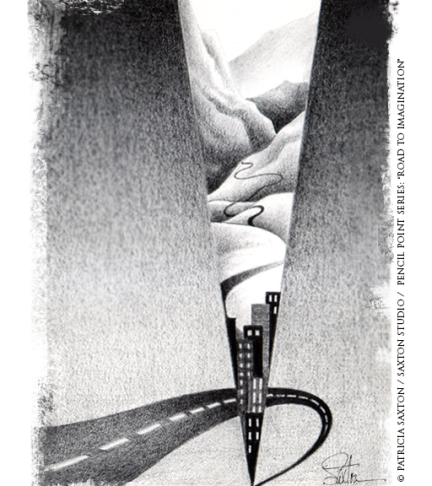 It starts out when you're small ~ imaginary friends to share your secrets with and mythical beasts under your bed, dolphins swimming on clouds, dancing spaghetti and talking fish…. and if you're lucky you loop back around after you've grown up, after at least a few journeys into more serious, practical waters.
There are some who never wander far from that magical place of the imagination, but most of us stray. We twist and scuttle around winding roads of this and that important thing. The key is to not stray so far and so long that we forget. Because our imaginations are like beautiful shiny rocket ships, launching a thousand ideas and dreams. Imaginations make art and music and electricity and cures for diseases and stories that make us feel and think and grow. Imagination is liberating. It's a life force beyond our comprehension – we have to use it to know it, and even then, just around the bend there's always more marvelous wonder not yet discovered, not yet realized, not yet "thunk up". Always.
"Imagination is more important than knowledge. Knowledge is limited. Imagination encircles the world."  ― Albert Einstein