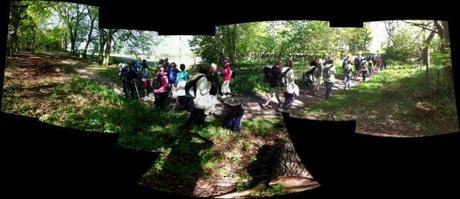 Thought I'd share with you a couple of panoramic images taken by Miles during his 21-mile walk along the Chiltern Ridgeway in celebration of PACE's 21st anniversary.
The sun beamed all day, the bluebells were emerging, Miles got to know many of the walkers – including PACE's founder-director Heather Last,  new CEO Amanda Richardson, and fundraising manager Simon Ekless – and best of all, he got to breathe in some of the most sublime views of the Chiltern Hills.

By Miles' account, the walk certainly demanded a lot of him and his fellow walkers. At times he thought the climb would never stop; getting from the Prime Minster's country residence, Chequers, to Coombe Hill (pictured) alone would be enough to wipe out anyone in a day, but they still had to get to 156 Wendover Road another hour's trek away.  Of course they got there in the end – sweaty, sore, tired and happy – and celebrated on the site of the new PACE Early Years Centre with balloons and a sprinkling of champagne.
Two days later, hubby is hobbling around the house with two foot blisters "as big as plums" (his words, not mine), and struggled to carry our little girl up the stairs for her bedtime. But he says it's the best thing he's ever done for some time, and I'm proud of him.
More importantly, Miles has raised £875 – just £125 shy of his target for the walk. PACE say the overall total raised so far is £15,000, and are confident that "£21K for 21 miles will be achieved very soon."
Please keep those donations coming! Just click the button below to pay with a debit or credit card: