Hey there chikas!I don't know about you but I am loving the weather at the moment.I am permanently in flip flops and relishing ever ray like its the last...you just cant tell with Britain's crazy weather system!
Today I'm wearing a playsuit I picked up on the ASOS sale.I dont know about you but at River Island stores Ijust dont seem to ever find anything particularly fruitful when it comes to their sales.
Having it online seems to cut out the middle man and I got some great bargains especially with sale prices and a further 10% off at the till which was on offer at the time....*score*.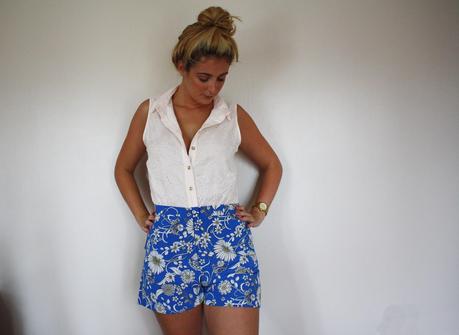 Apart from its usual potential transitional piece gorgeousness I love how quaint and structured this is.The shorts are beautiful and I love the floral pattern which also boarders paisley I love that their high waisted.
The shirt is an off white almost crochet effect in a  floraly patterns.
Its just one of those outfits you can throw on and look like you've made a big effort..even though you haven't!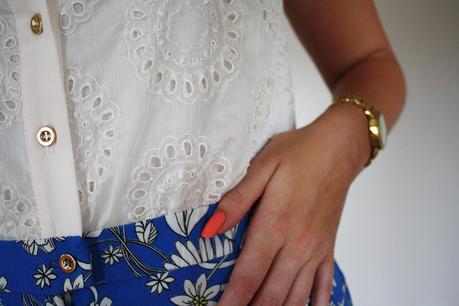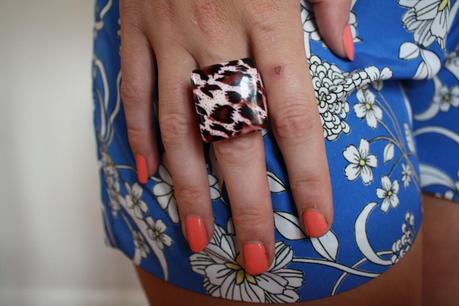 The playsuit features gorgeous gold button detail.
I do apologize for my blatantly half arsed hair but my god it was humid when I took these pics!Looking at these pictures I seem quite tanned. I have been working outside all week. But the room was a little dark while I took these and thankfully it may have gone in my favour! mwhaha.
I got this playsuit for £28 reduced from £40 and its still in stock here so hurry!
Do you like wearing this style of playsuit?