Ever wondered what it's like to set up your own business? I don't know about you but I am always intrigued and filled with admiration for women who have gone ahead and set up their own businesses. You may remember a few weeks ago I did a post about Naomi who has set up her soap company AppleAnd Tree. Today I set up an interview with Kerry-Ann who is the owner and creator of Juliet's Kiss an online lingerie store which specialises in lingerie to accommodate women who want purse friendly pretty designs and have little waists and a large cup size. I interviewed Kerry-Ann to find out what it's really like to take the plunge and build her own business.
I think setting up your own business is a huge achievement, can you tell me what led you to set up your Website Juliet's Kiss?
From an early age I have always been interested in business. I started by helping my dad in his carpet business by going to markets, car boots and helping him in store. I then progressed in my early teens to making cross-stich cards which my dad sold for me at his shop. I did this to help fund my driving lessons and as soon as I had a car the world was my oyster so then I decided to do children's games and entertainment at local fetes and school fairs. I have continued to do this throughout my years at university as well as having a peddlers license and selling glow sticksat events for Christmas light ups and bonfire nights. I was going to study business at university and then decided that I knew most of what I was doing so I went for what interested me the most and something I couldn't learn myself. Therefore I did Forensic Science as I've always has an interest in crime scene investigation and the science behind it. I achieved a 2:1 degree at the University in Lincoln and then managed toget a job as a laboratory analyst 3 months after passing my degree. Unfortunately then I had an allergic reaction to a substance at work and had to give it up and then that's when I thought what next? After a shopping trip to Ann Summers and being told that my chest size is a 30E and they didn't stock bras that size, I started to do my research and realised there are not too many brands which stock bras for petite women with large chest sizes and therefore this is what led me to open a lingerie store which specialises in this.
Did you leave your full time work or did you start your business alongside working?
I had to leave my full time job due to a reaction and now I have focused all my energy on this as well as another couple of projects. One of which is still in very early stages and this will be another online venture. The other project is an already established business called Romeo & Revengewhich is a menswear clothing company who I manage certain areas, give advice and help with productions as does the CEO for me so we have a very 50/50 relationship as he does things to help me and I do the same to helphim exp
and and grow.
What inspired you to set up a lingerie store?
I had studied the high street and found myself continuously going to Ann Summers for underwear as I didn't have much option apart from La Senza. Once Ann Summers couldn't help me anymore I then found it upon myself that there was a niche in the clothing market. It was myself which inspired me to set up a lingerie store as I was finding it very hard to find bra's in my size which were variant in styles as mainly what I had found from other brands is that they were quite standard and plain unless you wanted to pay more than for example La Senza. Therefore my aim is to specialise in bra's for petite women with large cup sizes and for each one to be different from the rest in style so they are very fashionable. I will have some styles which are fun and flirty and some which are elegant and classy, therefore there is something for everyone. I will also keep prices at a reasonable high street price to keep them affordable for all ages.
Is there a story behind your brand name Juliet's Kiss?
The brand name represents the Shakespearian story Romeo & Juliet Act 1 Scene 5 where Romeo meets Juliet at the Capulet ball and they share their first kiss, where true romance shines through although they know they are committing a sin against their families. Therefore this represents the brand with the love you will have for our lingerie and the romantic styles as well as the naughty section of the website to represent the sin and naughtiness of Romeo & Juliets actions as these are the raunchier items such as body stockings, corsets, lace teddies and more.
Can you tell us a little about the work your doing developing new products?
We have produced 5 styles for our first collection.

Golden Embrace is a feminine and decadent style, finished in high quality golden lace with sealed trim, over a deep purple satin bra. The cheeky, peekaboo styling to the front, allowing a V shaped section of the smooth satin to be exposed gives a nod to historic fashion, whilst the bow details, featured on the bra straps and also on the full and thong style briefs provide a playful element. Designed to be flattering and sophisticated, as well as youthful and sexy, the Golden Embrace flatters the curves of your derriere with feminine lace panelling on both brief designs.
Purple Presence is a young and bold design, but ideal for everyday use thanks to the smooth satin finish and comfortable shaping. The bow detail to the front of the bra and fashionable yellow polka dot fabric give this set a fun look that younger customers will enjoy, whilst the V shaped front to both brief designs give this set a glamorous appearance that will remain invisible under clothing.
Sweet Lilac provides both sexy detailing and the full support required by larger breasted women. The bra is designed to offer comfort to those wearing a cup size D-G, whilst cut away details make this a daring and provocative style, previously difficult to find in larger sizing. Gold striping and a double strap detail give this lingerie a luxurious feel, despite the High Street price tag, and briefs available in a full or thong style cut also provide the same fun styling, with cut away details and double strapping.
J'aime Dentelle is the sauciest set in Juliet's Kiss' debut collection, though it still retains the elegance and sophistication that the whole range exudes. The only long-line bra in the collection, J'aime Dentelle features lace up details suggestive of a sexy and provocative corset, with this feature matched on the briefs also. The deep purple satin is indulgent and rich, whilst the black lace over lay gives the set a dark and mysterious finish, perfect for a special evening. Bow detailing keeps this set feminine and pretty.
For grown up style and added luxury, Juliet's Kiss have developed the Moonlight Elegance lingerie set, a black satin set adorned with golden lace embellishment that looks expensive and exclusive. With smooth satin cups that remain invisible under clothing, and vine leaf details

to

the straps to add interest, the bra is perfectly complimented by a range of 3 briefs, all featuring the alluring golden vine design on delicate black satin.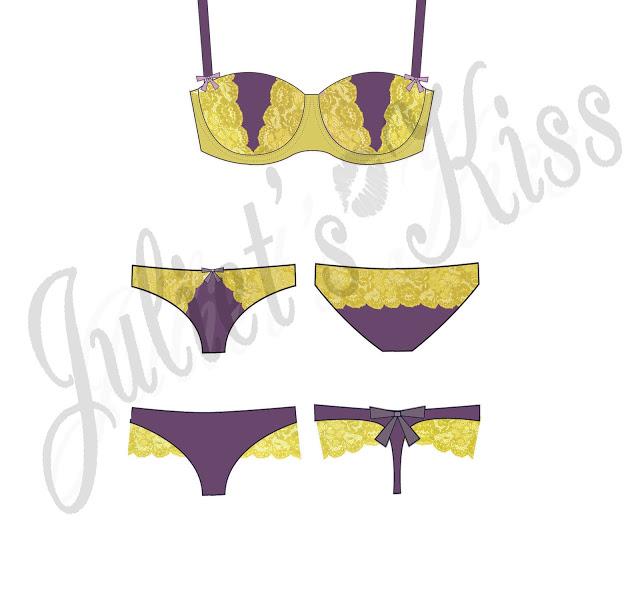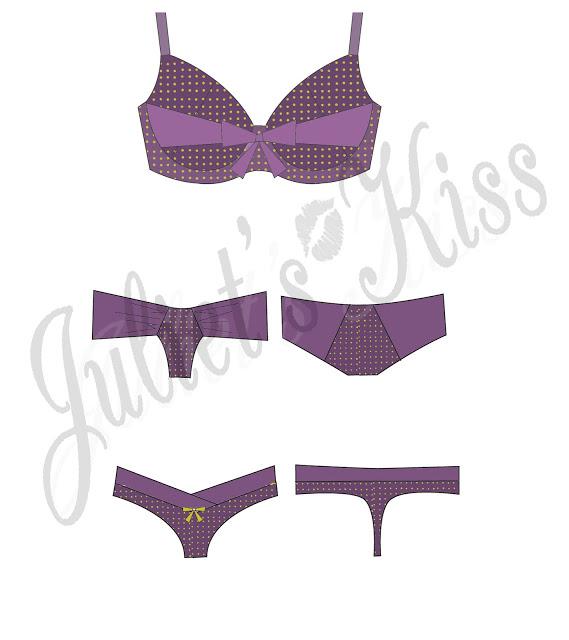 Which lingerie line/high street store do you think Juliet's Kiss' future products is most similar to?

I would like to say we are not like other brands as we would not want to be a copy brand and all of our lingerie sets are designed uniquely. However I would say we are a mixture between Ann Summers and there more classy and lace details with the fun and bold patterns of Freya and Panache.

What is your personal favorite item of the products currently on sale at Juliet's Kiss?

My favorite from the new collection is the Moonlight Elegance set and from our current selection is the oxblood babydoll and the halter neck all in one lace teddy.

 

What would you like to achieve with Juliet's Kiss in 5 years time?

In 5yrs I would like to see Juliet's Kiss being stocked in 5 countries; ideally USA, Australia, UK, France and Italy. I would also like to launch Juliet's Boutique and start a womenswear collection but that is a long way off yet. To summarise I would love Juliet's Kiss to be classed as a must have for the underwear drawer for every large chested petite woman.

 

What recommendations would you make to someone wishing to build their own brand?

To someone who wishes to build their own brand I would say you need a niche as the market can be very saturated in some areas. A catchy name. A clear vision and a lot of hard work and persistence as it isn't easy working for yourself and making it a success, but all the hard work will be worth it in the end.

 

What advice would you offer for anyone considering setting up their own independent business?

A business plan is very important, lots of people are very excited and want to dive right in but what I recommend is write everything out and analyze every detail as this will take up a lot of time in your life and you have to continue the passion towards it. However don't be fooled by your own illusions of what is "good" as you may get over your head and look at something so much you believe it is amazing, when in fact it might not be up to scratch. So take advice from others and listen as they might be your savior and save you money in the future as well as make it for you.

Kerry I have thoroughly enjoyed this interview and finding out about the woman behind Juliet's kiss, you are clearly a very talented and determined woman! To find out more about Juliet's kiss pop over here to see Kerry's online store.


Which leads me to my final question, if you readers were to set up a business or shop what would it be?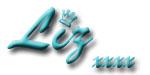 Facebook | Twitter | Bloglovin | Hello Cotton