For the past couple of years, it's been a game of, "So, you're telling me there's a chance!" as far as a Dumb & Dumber sequel was concerned. The Farrely Brothers confirmed they were doing it, and that Jim Carrey and Jeff Daniels would be back as Lloyd and Harry.  Then Jim Carrey dropped out of it.  Then he came back.  Then The Incredible Burt Wonderstone bombed, and suddenly Warner Bros./New Line wanted out of the ever-dwindling Jim Carrey business, almost instantly kicking Dumb & Dumber To to the curb, letting Universal swoop up the rights 8 days later.  Things seemed pretty well set after that when Jeff Daniels used a July 2013 Late Night with Jimmy Fallon appearance to announce that filming was scheduled to begin in September, observing, "I've seen the script. It's hysterical. We're middle-aged, and we're still that stupid."  However, he also said he'd kind of only believe it for sure when he was on set shaking Jim Carrey's hand.  Sure enough, within weeks of that appearance the producers of the first Dumb & Dumber sued the up-start producers of the sequel.
So, similar to Jeff Daniels I reached a point where I would only allow myself to believe this was a movie that was actually happening until after I saw the trailer.  Well, shut my mouth because Jimmy Fallon just exclusively premiered the first Dumb & Dumber To trailer last night:
Maybe this is just me bringing my own "getting old" baggage to this, but my first reaction to this trailer, which is not completely bereft of laughs, is just how much older Jeff Daniels and Jim Carrey look.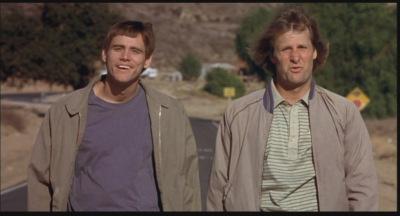 Carrey and Daniels in 1994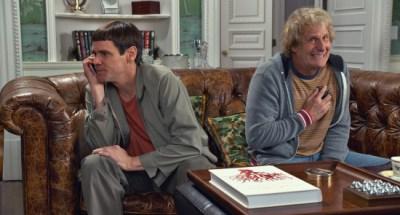 Carrey and Daniels in 2014
When you put them in the same basic costumes and hairstyles 20 years later the fact that they are middle-aged is going to show (for the record, Daniels is now 59 and Carrey 52) thus giving Harry and Lloyd's idiotic behavior an unexpected tinge of sadness because look how much older they are without having changed in any other significant way.  Beyond that, I know we're talking about the Farrelly Brothers and everything, but that final gag involving Lloyd's curious encounter with an old grandma seems a tad bit like they're trying too hard to re-capture the "WTF did I just see?" heyday of There's Something About Mary.  However, that doe serve to point out that Dumb & Dumber To is going to be an R-Rated comedy meaning while this trailer gives us the basic plot a red-band trailer somewhere down the line will likely deliver more of the laughs, assuming there are more.
The original Dumb & Dumber was released upon an unsuspecting public in 1994, the same year that everyone was being delighted (or assaulted, depending on your point of view) by Jim Carrey in Ace Ventura: Pet Detective and The Mask.  It was the directorial debut of The Farrelly Brothers (who also co-wrote the screenplay), and featured most of their signature touches: dumb but ultimately sweet protagonists, crude, non-PC jokes, gross-out humor, plenty of over-the-top physical comedy, and a love of middle-of-the-road rock for the soundtrack (remember The Crash Test Dummies?).  It also featured a scene that respected dramatic actor Jeff Daniels will never be able to live down.  He's now Emmy nominated as just the latest mouthpiece for Aaron Sorkin to lecture America about how the way things should be on HBO's The Newsroom, but for the majority of the 90s Jeff Daniels was the guy who did this:
It was a ginormous hit upon its release, grossing what would be the equivalent of $482 million worldwide at current ticket prices.  It was the 6th highest grossing film of 1994 (behind Forrest Gump and The Lion King but ahead of Speed), and remains among the Top 20 highest-grossing comedies of the past 20 years.
So, of course there was going to be a sequel, right?  Well, not so fast.  Jim Carrey's much-touted ascension to a star demanding a $20 million paycheck for each film as well as a general disinterest on the part of all involved parties made any kind of live-action continuation of the Dumb & Dumber story a non-starter for approximately the next decade.  So,  they did an animated series instead, and no that is not a misprint.  They did an animated series [pause for dramatic effect] of [paused for further dramatic effect] Dumb [pause again] & Dumber!  Premiering in 1995, it mostly featured Harry and Lloyd driving around in their dog-like car named Otto, having adventures with their pet beaver named Kitty.  It…was…horrible, airing on ABC in America as part of Saturday morning cartoons, lasting just 13 episodes:
New Line Cinema gambled that maybe they could simply make a quick buck off of the Dumb & Dumber brand and related nostalgia, distributing a prequel in 2003, Dumber & Dumberer: When Harry Met Lloyd.  Eric Christian Olsen stepped in for Jim Carrey and Derek Richardson for Jeff Daniels.  Pretty much nobody from the original Dumb & Dumber was involved, except for Brad Krevoy who was among the credited producers for both the original film and the prequel.  Critics hated it, fans didn't seem to care, and it made a meager $39 million worldwide on a $19 million budget.
Of course, time has a way of humbling directors, producers, and actors.  Ever since 2001′s Shallow Hal, The Farrelly Brothers' filmography is mostly films which have done okay but not great (Stuck On You, Fever Pitch, Hall Pass, The Three Stooges) with one genuine hit (The Heartbreak Kid).  After I Love You, Philip Morris, The Incredible Burt Wonderstone, and Kick-Ass 2, Jim Carrey could sure use a big hit at this point.   Jeff Daniels, on the other hand, regularly pops up in respected independent films, and though his Newsroom gig is soon coming to a close he's still the one for whom doing a Dumb & Dumber sequel makes the least sense.
However, then it happened – in late 2011, the Farrelly Brothers announced they would be writing and directing a sequel to Dumb & Dumber, and it's been a rocky road ever since then, as summarized earlier in this article and discussed in-depth in a prior article I wrote last July.
As I said then, the history of film comedy sequels is not on Dumb & Dumber To's side.  Based upon this trailer, it looks like it'll have some decent laughs (it's a creepy story line, but I still laughed at Lloyd instantly going to his romantic fantasy world in his mind when he saw a picture of Harry's daughter), while quietly acting as a slightly unwelcome, very grim reminder to us all that it's been 20 years since the first Dumber & Dumber came out.  
Dumb and Dumber To is due to drop in the U.S. and Canada on November 14, 2014.
What about you?  Are you intrigued by this very first trailer?  Indifferent?  Leave a comment to let us know.
Source: SlashFilm.com